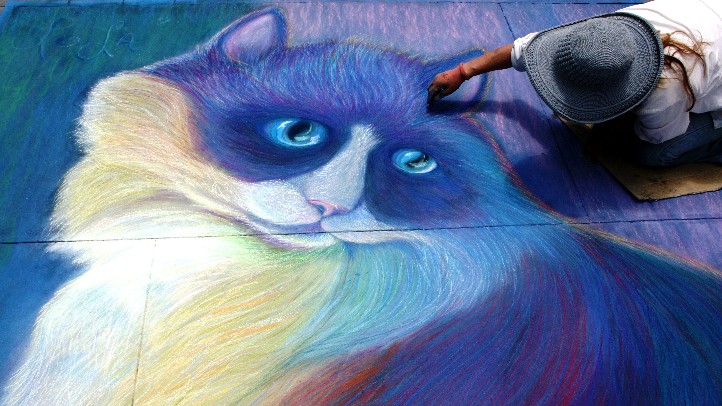 After you've taken Dad out to his favorite restaurant for that cheese-laden three-egg omelet he only allows himself on special occasions, then what? You know exactly what we mean by the "then what?" there. You see families on holidays, standing outside restaurants during the brunch hour, asking each other what everyone would like to do next.
Come Father's Day Weekend, that "then what?" often means a visit to the Crown City, for the annual Pasadena Chalk Festival. It's free, meaning that you can buy your father the fanciest omelet on the brunch menu without having to set funds aside for later in the day. It's colorful, meaning that your dad, should he be a shutterbug, will have many ground artworks to snap. And it's in the open air, meaning that the family can wander as they will, and no one needs to stick together for a set period of time.
The 2011 dates are Saturday, June 18 and Sunday, June 19. The location is Paseo Colorado.
And if your kidlets haven't quite gotten around to making Dad a Father's Day card yet? There'll be a craft area for that.
The subjects and hues all run the gamut, but the crowd-attracters tend to be those chalky pictures that have a particular 3D quality, depending on where the viewer stands. Again, we say, how do we do that? We sense perspective and angles and shading have much to do with the magic, but part of us wants to enjoy the pleasure of looking less the pleasure of picking apart the process.
Copyright FREEL - NBC Local Media