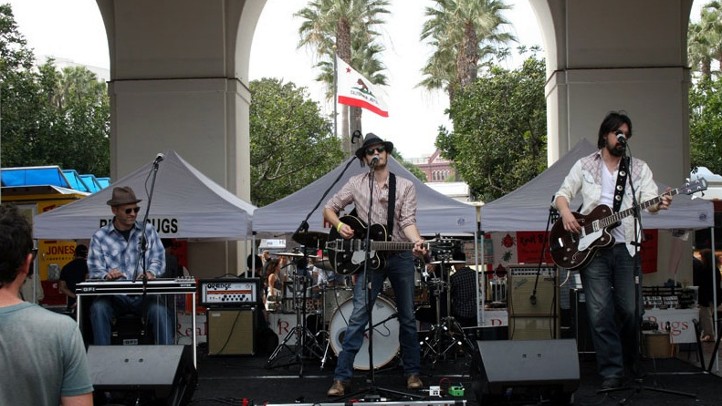 Strolling a flea market should inspire many things. Ideas for what to do with that one shelf in the den, or what to get your sister, the one who collects '80s earrings, for her birthday, or how to do your next apartment.
But let's be honest; snacking comes to mind more often than not. Because when you're looking at all of those vintage candy bowls and kitschy casserole dishes and orange-hued slow cookers, you want to find lunch. And pronto.
Enter the Gourmet Music Carnival, which is pulling into LA State Historic Park on Sunday, Aug. 21. You can guess from the name that there will be food and there will be tunes. Yes and yes. You are absolutely correct, you smartie.
But there's a crafter-cool, vintage-quirky element to the day, too; Phillip Dane, the carnival's honcho, founded the Melrose Trading Post, so it is no surprise that you'll be able to shop for bracelets and whatnot. (We personally love whatnot and find it to be an undervalued resource.)
So if you do come across a necklace with a tiny snowcone charm? Chances are high you could be eating a snowcone or something snowcone-like in a matter of minutes. Call it synchronicity or just luck.
Time is 11 a.m. to 7 p.m. An advance ticket is $12.
Copyright FREEL - NBC Local Media