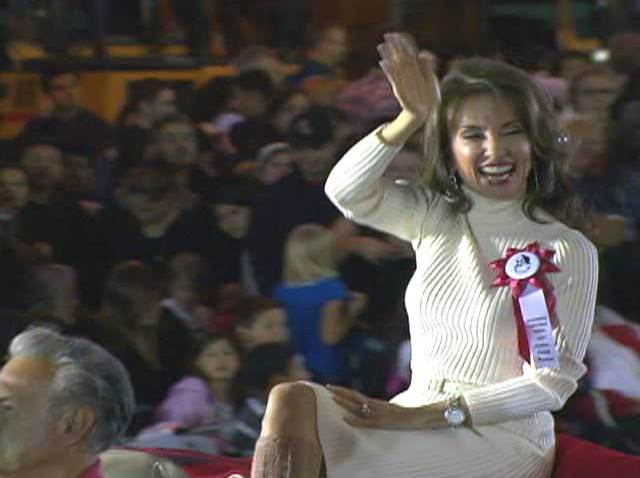 The Hollywood Christmas Parade doesn't bring out the big names it once did, but it did have a giant Grinch balloon, 14 bands, eight equestrian units and Susan Lucci.
Lucci, the grand marshal, plays Erica Kane on the long-running daytime drama "All My Children." The show recently moved production from New York to Los Angeles.

Other celebrities waving from convertibles included Oscar winner Louis Gossett Jr.; Grammy-nominated singer Brian McKnight; comedian Shawn Wayans; former "American Idol" contestant Ace Young; talk show host Montel Williams; actors Lorenzo Lamas and Lee Majors; and athletes Lisa Leslie and Luc Robitaille.

Oh, and that Santa Claus guy showed up, too. He made a tree "magically" light up when he waved his hand.

The parade tradition began in 1928. At its peak, it featured A-list celebrities like Bing Crosby, Bob Hope, Jimmy Stewart, Sammy Davis Jr., George Burns and Gracie Allen.

The event inspired Gene Autry to compose the classic song "Here Comes Santa Claus."

But the parade's popularity has waned over the years. It was almost canceled in 2007, when the Hollywood Chamber of Commerce could not secure enough broadcast advertising to help offset the cost of the production.

The Los Angeles City Council stepped in and contributed $175,000 to keep the parade going. The city of Los Angeles continues to underwrite the parade, but it is unclear how much it is spending this year.

Tens of thousands of fans were expected along this year's route. Those willing to pay $35 sat on bleacher seats.

Copyright Archive Sources