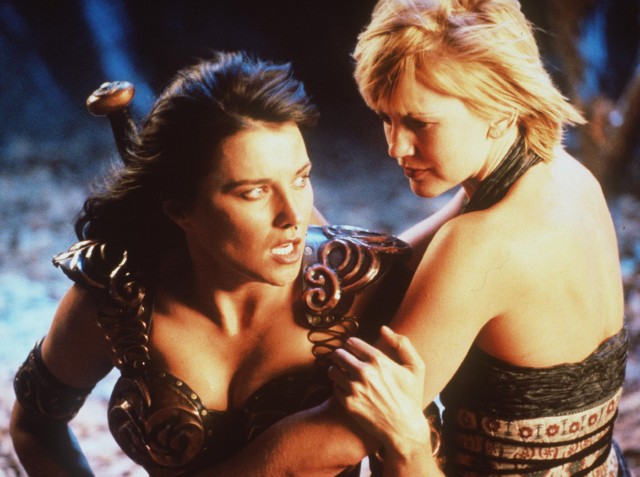 Just the other day we asked a friend this question: "Where's grrl power gone to?"
We know it is around, and we tip our hat to those sites and writers still fighting the good fight by employing the term and message. But even they can't deny that there seemed to be a heyday, back in the '90s, when grrl power, as an idea, had a major pop culture moment.
One of the stars of that moment was Xena. Yep, the television phenom was a warrior princess, and we personally always took heart that "warrior" came before "princess" in her handle. Very grrl power, indeed.
But Xena: Warrior Princess fights on, even if her '90s-mondo series wrapped several years ago. The evidence? Her fans regularly gather at the official convention to celebrate all the mythic braveheart. The Official Xena Convention 2012: The Final Journey is at the Marriott Burbank Airport Hotel from Friday, Jan. 27 through Sunday, Jan. 29.
Xena herself, Lucy Lawless, is set to show; Renee O'Connor, Xena's dear and courageous companion, will be in the house, too. And Ted Raimi! We see Ted Raimi all over town, and he always looks quite natty. Thank you, Ted Raimi, for being you.
Any available tickets will be sold at the door, says Creation Entertainment.
While typing this post we've come to realize that, maybe, in this post-grrl power world, we no longer need to rely on the term as heavily; perhaps certain goals have been met and barriers bested. But maybe not. Still, the words may have a renaissance, soon; check out MMA fighter Gina Carano, who takes down the bad guys with a thump and a crash in the new-ish film Haywire.
Could Xena and Gina Carano meet, mano-y-mano? Better yet, could they fight the baddies together, side by side? Producers, get on that pronto. We'll buy a ticket.
Follow NBCLA for the latest LA news, events and entertainment: Twitter: @NBCLA // Facebook: NBCLA
Copyright FREEL - NBC Local Media