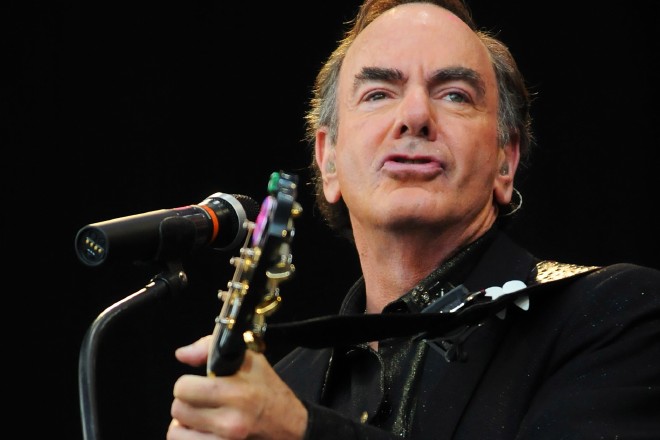 What were you doing back in August 1972?
It's not a trick question. You might not have arrived on the planet yet. You might have been headed back to college or raising a family, early '70s-style (which meant matching bell bottoms for everyone, at least in our sitcom-loving mind). Or you could have found yourself at the Greek Theatre.
If you're in the last category you just may have been present for the famous recording of "Hot August Night." The record was recorded on Aug. 24 of that year, but the seminal Neil Diamond Greek shows that surrounded and encompassed that recording rolled over ten glorious, denim'd-out nights.
That Aug. 24 show eventually became a double live album, one of the biggest in the annals of live album history. And certainly a feather in the singer-songwriter's cap. (Which we're picturing as corduroy patchwork, because, hey, it was 1972.)
Wait. Here's the famous cover. We love this cover so much. Hot.
Now Mr. Diamond will be returning to the Greek for two shows to celebrate "Hot August Night" on its 40th anniversary. Let us all pause here to reel that 1972 was 40 years ago. Done? Okay, good. Moving on.
The shows are on Aug. 11 and 16. The Greek just announced that an AMEX presale goes live on Wednesday, Feb. 29, while general tickets go on sale on Monday, March 5.
Will these shows be sold out? They're so going to be sold out they should probably subtitle the concerts "These Concerts Will Be Sold Out, Thank You and Good Night."
Two requests. One? If you were there on Aug. 24, 1972, you have to go again, right? And wear what you wore? Were you parting your hair straight in the middle then? Yes, you were.
And two. Mr. Diamond, just please sing "Sweet Caroline" like 20 times. We'll beg for a 21st. That is all.
Follow NBCLA for the latest LA news, events and entertainment: Twitter: @NBCLA // Facebook: NBCLA
Copyright FREEL - NBC Local Media