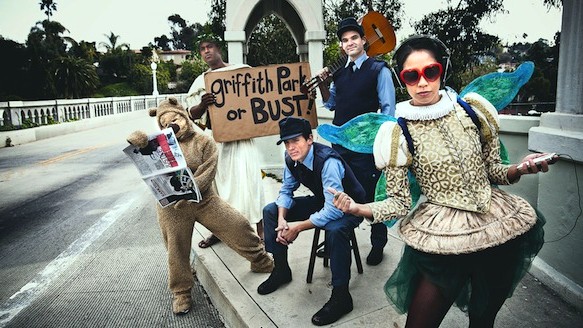 Somehow, along the way, William Shakespeare got a bit of a fusty image, or at least his works did. Maybe it was because of the perceived cobwebs of time or the misguided notion that theater -- sorry, theatah -- is a stuffy affair.
That couldn't be more wrongy, of course (and we realize we just made up "wrongy" there, but the Bard was known for making up a word or two, too). William Shakespeare was a ribald and lively writer. And, a bonus? Many of his fans didn't have to spend hardly anything at all to see his plays.
Stuffy? Bah.
And we are pleased that LA's own Independent Shakespeare Co. embraces the gloriously unstuffy side of Shakespeare, year in and year out, with its annual free Griffith Park plays. They're set to kick off again on Thursday, June 28.
So what's the fun fare for 2012? "The Winter's Take," "The Comedy of Errors," and "A Midsummer Night's Dream" are the trio of plays set to repertory straight through Sunday, Sept. 2.
As always, ISC offers other goodies around its free, park-perfect nights. There will be "pre-show performances on select evenings" and family workshops on particular nights, too (you'll want to make reservations for those, so drop ISC a line ahead of time). There's also a Salon Series, which delves into Bardly matters, but, again, check into reservations.
Picnics are permitted -- alcohol is not -- and food'll be sold there. Best check out the to-brings and to-leave-at-homes before going Griffith.
Most of all, show with your sense of silly. Would Shakespeare have liked being branded as cobwebby by some of the future unenlightened? Hardly. We're quite sure he would have taken quill to parchment to satirize those naysayers.
Follow NBCLA for the latest LA news, events and entertainment: iPhone/iPad App | Facebook; | Twitter; | Google+; | Instagram; | RSS; | Text Alerts | Email Alerts
Copyright FREEL - NBC Local Media