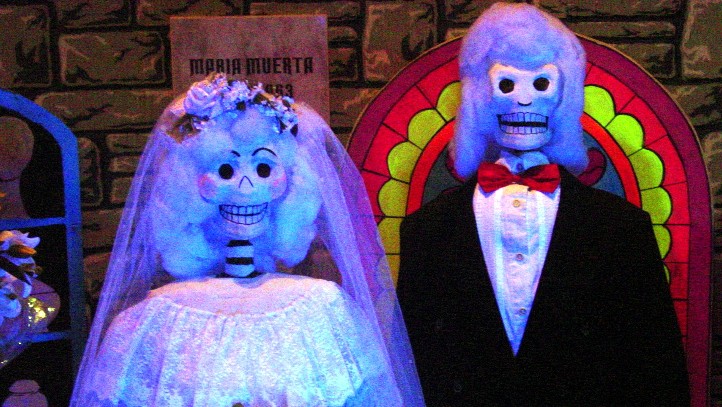 While people celebrate Dia de los Muertos in many ways, nearly every reveler enjoys elaborately staged scenes of the muertos themselves. Whether the skeleton is small or tall, seeing a grinning fellow dressed to the nines and savoring the fruits of life, or a bride holding a bouquet in her boney hands, is one of the charming and moving sights of the autumn holiday.
But if you do like your muertos on the mondo side, make a date to catch George Newnam's Casa de Calaveras. The artist's large-scaled skeletons pop up around Southern California every late October and early November, though perhaps "pop up" isn't the right way to describe the process. Mr. Newnam places his dapper skeletons at the center of several carefully constructed dioramas, dioramas that surely take many hours to devise and install.
Over here, the traditional bride and groom. And there? A pair of skeletons sporting guitars. And in-between a host of happy figures living it up on the other side of the veil.
It's a must-see for all fans of muerto-dom this time of year. Casa de Calaveras is headed for the Bowers Museum on Sunday, Nov. 6, which also happens to be the Santa Ana institution's free day. Even better, and you can catch the terra cotta warriors show in the process.
But Casa de Calaveras will make other cameos in the area, too. Look for the Day of the Dead figures at the San Juan Capistrano library on Saturday, Oct. 29 and Sunday, Oct. 30. And the East Los Angeles Library will welcome the figures on Wednesday, Nov. 2.
Follow NBCLA for the latest LA news, events and entertainment: Twitter: @NBCLA // Facebook: NBCLA
Copyright FREEL - NBC Local Media