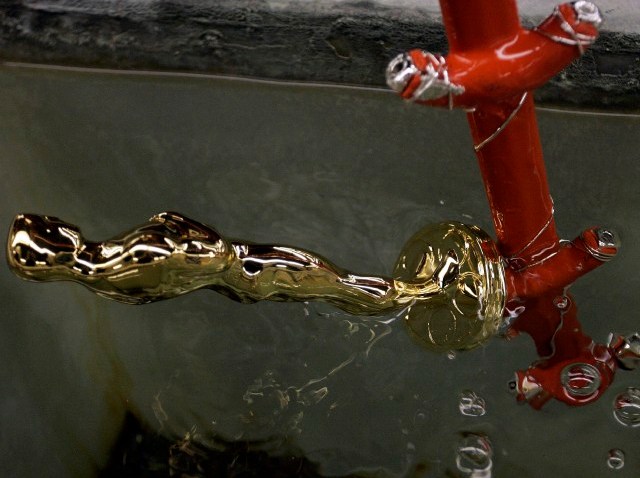 We realize that the bulk of the amazing, much-published, much-discussed photographs that come out of Oscar Week start showing up in the blogs and tabloids the Monday after the ceremony.
"She Did Not Wear That!!!" (<-- Multiple exclamation points are key) is one typical accompanying headline; so are the words "best" and "worst." Put ALL those elements together and you've got publishing gold.
But we'll take pause before the Sunday, March 7th ceremony to marvel over an amazing snapshot of an Oscar statue getting a bath in plating solution.
You never think of plating solution on Academy Awards night, do you? You think what actor is on the outs with what other actor. What pair is secretly dating. Who deserves to win. Who will. But plating solution? And how the statue actually comes together? Not at the top of mind.
It will be now. Because it takes work to make Oscar (and that work happens at the R.S. Owens factory in Chicago, by the way). Here's a nifty video that shows the important process.
Copyright FREEL - NBC Local Media