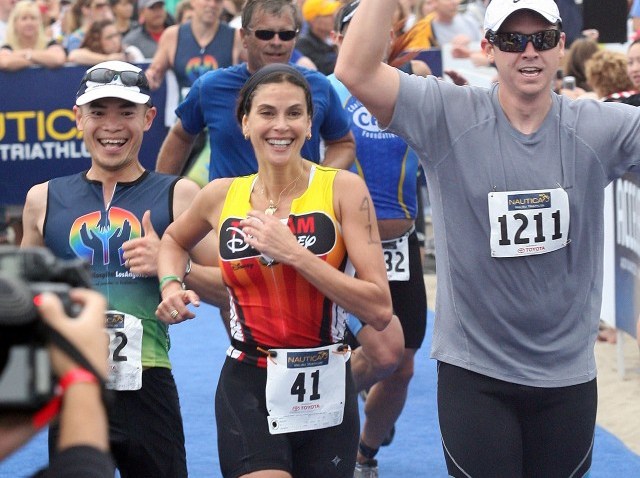 NAUTICA MALIBU TRIATHLON: It's the athletic event that attracts the stars, year after year. And in its 23rd outing, Teri Hatcher, Jeremy Piven, Mario Lopez, and William H. Macy were among the bicycle-short-wearing, swimcap-donning participants to head out into the Pacific over the September 12th-13th weekend. Breaking it down, there's was short swim (a half-mile), a goodly cycle (18 miles), and a four-mile run to the finish. Children's Hospital Los Angeles was the beneficiary.
OZZY, THE DONNAS, SHINY TOY GUNS: You didn't try and cut from Crescent Heights to Doheny via Sunset on Saturday, did you? Probably not. But maybe that was you, crowd surfing, head banging, rocking out to bevy of bands that played into the long afternoon plunk in the middle of Sunset. West Hollywood mayor Abbe Land was on hand to give a hello to the mighty pumped-up Sunset Strip Music Festival crowd. Maybe that was Mayor Land doing the crowd surfing?
CREATIVE ARTS EMMYS: We're not going to put the Creative Arts Emmys and Primetime Emmys head-to-head in some sort of glittery competition. We can like 'em both. But we have a soft spot for the Creative Arts. They're up first, they don't draw the excited, live, "over here!"-shouting coverage. They've got animation. And Tina Fey, who won. Eye the full rundown of winners from Saturday night.
Copyright FREEL - NBC Local Media