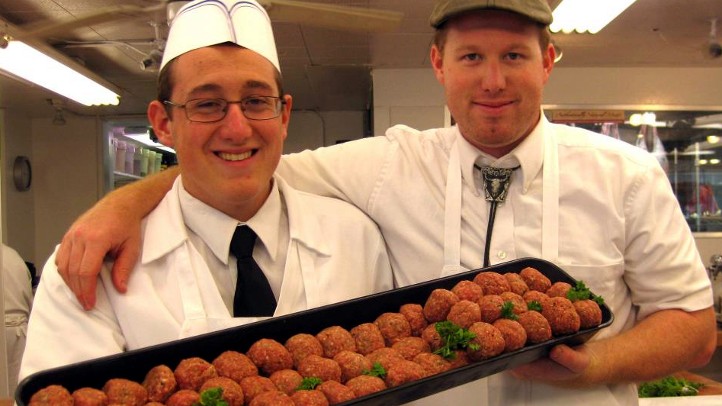 Remember the olden days, when your grocer would see you walk in the store and immediately start scooping exactly seven pounds of barley for you, even before you asked?
Okay. That might be the very, very olden days, but we do long for them. That sort of service still makes a welcome cameo now and then, though, and certainly at the northeast corner of Third & Fairfax. If you've been going to the Original Farmers Market long enough, and shopping at the same stalls, bet your favorite grocer bags up your favorite raisin loaf when she sees you on approach.
With that in mind, the public market will be launching "I Am Farmers Market" on Thursday, Feb. 9. The multi-month sweepstakes will have several $75 gift certificates up for grabs; some 15 different grocers will participate, so fingers crossed you win a gift certificate at your favorite pastry or poultry shop. Here's some info (note: pdf).
But customers aren't the only winners; the sweepstakes, of course, spotlights the stars behind the counters. We eaters and shoppers may be the soul of one of our city's stay-awhile-iest spots, but the nice grocers keeping us in gourmet cheeses and teriyaki jerky are the market's heart, natch. "I Am Farmers Market" is a hearty round of applause for the butchers and baristas and all the people keeping all the people fed and happy.
Perhaps the sweepstakes'll inspire a longtime market regular to discover a stall they don't frequent much. Or maybe someone who rarely visits Farmers Market will want to come in and pull one of the iconic wooden baskets around for the first time.
Wait? Do people who rarely visit Farmers Market exist in Los Angeles? Can that be? Are there locals out there who don't like a place where hordes of happy hanger-outers gather to drink coffee and shoot the breeze for several hours on end? Without paying the proverbial arm/leg?
Nah. That's just a big, big nah.
Follow NBCLA for the latest LA news, events and entertainment: Twitter: @NBCLA // Facebook: NBCLA
Copyright FREEL - NBC Local Media