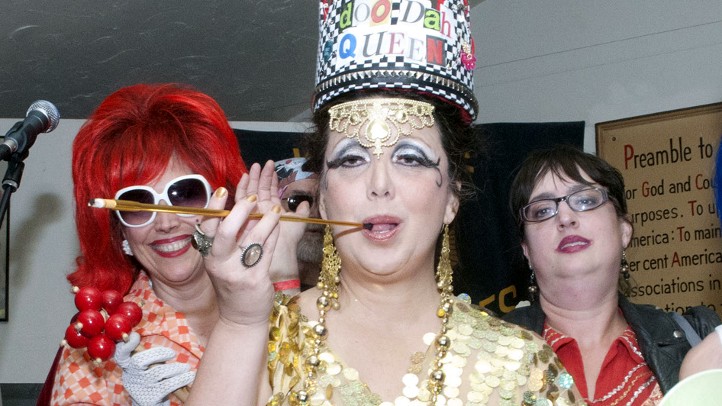 What's the secret to nabbing the Doo Dah Parade's coveted queenly crown?
There's no one route, of course, but if we're to look to the 2012 winner Princess Intergalactica we can get some valuable tips. Princess -- er, Queen, rather -- Intergalactica was named the 2012 winner on Sunday, April 1 in Pasadena.
Now, those tips.
1. Arrive with a title. Yes, you're going for Queen, but you might as well show up at the tryouts already sporting "princess" in front of your name, right? Right. You walk in looking like royalty.
2. If you have a regular name, that's a-ok, but think big in the temporary rebranding department. Intergalactica may have been born with that name, of course, but we have a sneaking feeling that she may have come to that later (especially since we hear her name might be Diane Patrizzi).
3. Props are good. She arrived with an Audrey-Hepburn-esque cigarette holder and black-light-y flashlights. We heard a rumor that "flashlight assistants" turned the light sources on her at key moments. Of course, that could have been "flashlight assistance," meaning Intergalactica herself carried the flashlight, which would have been just about as cool. Because carrying your own spotlight is *very* Doo Dah. (Update: A Doo Dah rep says a "movie projector type thing" was used in the light show. Which is even more complicated in the props book, in our opinion.)
(The new queen dances in a glow of flashlights.)
4. Dance. Contestants did some happy dancing during tryouts. Just freeform moving, not choreographed. Shakes off the nerves.
5. Clear your calender to be worshiped and adored. Queen Intergalactica will know that feeling on Saturday, April 28 through the streets of East Pasadena.
Follow NBCLA for the latest LA news, events and entertainment: Twitter: @NBCLA // Facebook: NBCLA
Copyright FREEL - NBC Local Media