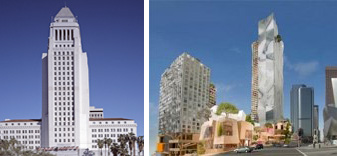 If you read between the lines of this Downtown News article, it sounds like there's a bit of dispute going on between City Councilwoman Jan Perry and developer Related Cos.
Given what's going on with the economy, Perry is now talking about doing a "short-term" project on the downtown site of the now delayed, Frank Gehry-designed Grand Ave project, even though she will not "divulge any details about what the new project would encompass or even who would develop it." Meanwhile, Related exec Bill Witte doesn't sound at all pleased about any proposed changes, telling the paper. "There's a lot of stuff being talked about right now. I can only say it wasn't Related that precipitated this discussion."
And here's another quote from Perry. "Still, in order to break ground before The Grand's entitlements expire in 2011, Perry said, "I think it would be incumbent upon Related to come back to us with proposals that would reflect the elements we think are important and possibly look at different staging based on economic indicators." It's hard to know how serious Perry is about this newly proposed project, and/or if she's just using the Downtown News as a way to put pressure on Related.
But who has any money at this point to build anything?
Copyright CURBL