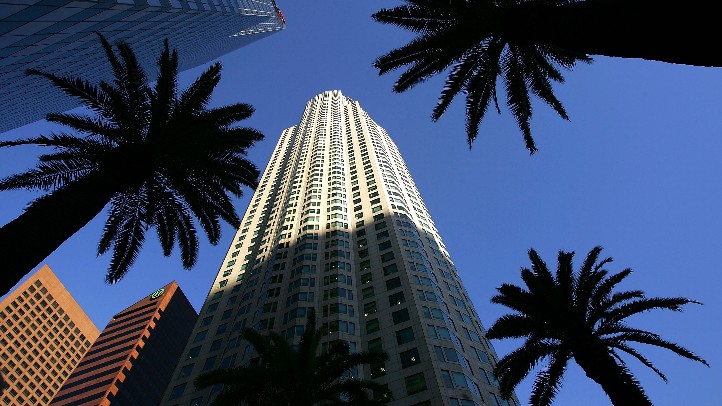 There's a reason that the U.S. Bank Tower -- also known as the Library Tower, natch -- stars in some of the biggest movies set in Los Angeles. (We're still looking at you, "Independence Day.")
It's tall, almost epically so, in a city brimming with outlandishly big skyscrapers. Take any of our giant downtown structures and move it to another city and watch how many of that city's existing buildings become a bit smaller, instantly.
So the idea of climbing up the U.S. Bank Tower is nothing short of daunting. There are nearly 1,700 stairs up, which, we don't need to tell you, is several hundred more than Rocky Balboa famously ran up in Philadelphia. (Nothing disparaging meant by that, Rocky; we're fans.)
A number of teams are set to take that challenge on on Friday, Sept. 28; also, "public safety personnel in full uniform" will also make the climb. And the reason for the major, skyscraper-bound ascent? To raise money for the Ketchum-Downtown YMCA.
That's 75 flights of stairs, if you're trying to add up and do the math.
A race celebration follows at Hope Street and Hope Place. The climb starts at 11 a.m.
And if you're wondering how long it takes to climb nearly 1,700 stairs to the top of the U.S. Bank Tower, the race results from years past are fascinating. Top male placers have ranged in the 11:20-13:51 neck of the woods. The next time something takes you just over ten or so minutes, consider what it would have felt like to have raced up the tallest building west of the Mississippi during that short stretch.
Follow NBCLA for the latest LA news, events and entertainment: iPhone/iPad App | Facebook; | Twitter; | Google+; | Instagram; | RSS; | Text Alerts | Email Alerts
Copyright FREEL - NBC Local Media