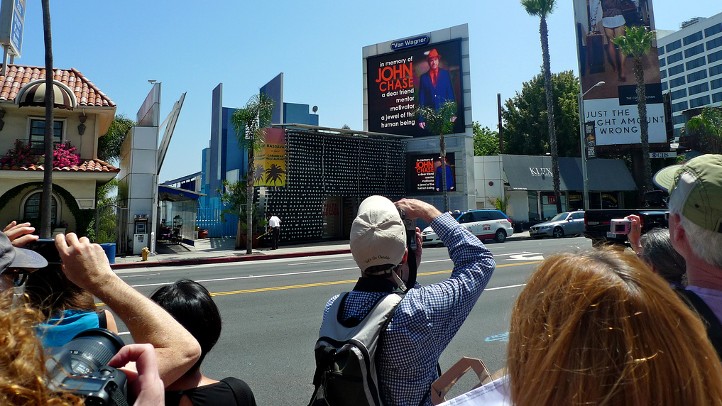 It's a rather unfortunate fact that many of us too often associate the job of "urban designer" with cities that came together hundreds of years ago.
We hear about the men who envisioned Washington D.C. and Boston, or at least their cores; less often do we learn of those people working in our modern age to give today's cities their distinctive look and feel and future.
John Chase was just that modern visionary, and he so happened to work with West Hollywood as his canvas. He served as the city's urban designer for nearly a decade and a half, starting in 1996. Mr. Chase passed away in 2010, but his legacy is an area that very much is unified along similar themes, even while supporting buildings and spaces that are almost outlandishly and colorfully realized.
Think of the city. When you're on any of its major streets, it just feels so West Hollywood-y, right? Gleamy tall buildings and funky big billboards and all. How many other cities can rightly claim such distinctive looks?
Thank you, Mr. Chase.
There's a nifty map of spots he was involved with or loved, created by handful of Chase-championing organizations, including Design East of La Brea (Keith Scharwath designed, so props to him). If you feel like hoofing it around and taking in John Chase's West Hollywood, the map's just five bucks.
Are you thinking a sunny Sunday afternoon stroll? With drinks at Sunset Plaza or dessert on Melrose? Yes, please.
Thank you, too, LA Conservancy for the tip. And kudos to other envelope-pushing urban designers out there, proving that all the good stuff in our metropolises didn't just go down two hundred years ago.
Follow NBCLA for the latest LA news, events and entertainment: iPhone/iPad App | Facebook; | Twitter; | Google+; | Instagram; | RSS; | Text Alerts | Email Alerts
Copyright FREEL - NBC Local Media