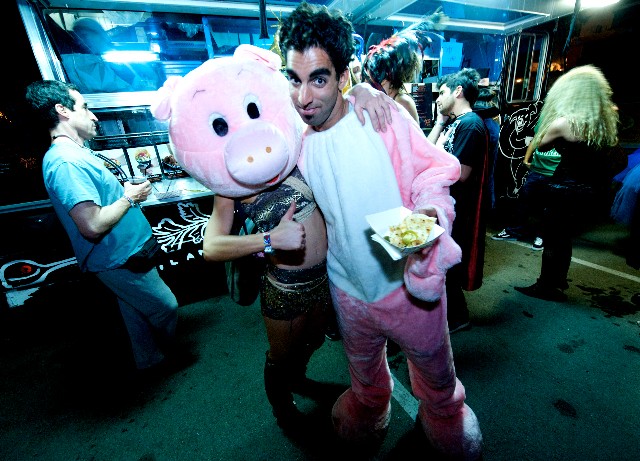 It's a rare day, a very rare day, when anybody should start flinging the word "coolest" around like it is some balloon on a string. Especially if you live in LA, where "coolest" is trotted out as often as a SIG alert, and sometimes met with as much frustration with wary bystanders.
But, sometimes, the word is warranted, and we reach for that particular balloon on a string, and start flinging, like today. Tickets for one the coolest, if not the coolest, grown-up Halloween parties in town went on sale on Tuesday, Sept. 28. We're talking about the KCRW Masquerade -- you're not surprised we'd say that, are you? -- and we're betting those tickets for the Oct. 30 bash will go go go.
Why? The finest DJs straight from the kingdom of DJs (and 13 of 'em, too). A glam-loving crowd. The Park Plaza. THE PARK PLAZA. The one building we'd ask to marry us if blogger-building weddings were permitted (oh whoops; Castle Green, we're betrothed to you, too). Costumes you'll talk about for days or envy, quietly, in memory, for years.
Tickets are $65 in advance. Why wait? It's hot, you're dreaming of Halloween, get on it. And use "coolest" as much as you can for this thing, we say. It isn't empty praise. By the way, the full name of the event is "Masquerade: A Halloween Costume Ball and Dance Party." And again, this is happening the night before Halloween, Oct. 30, which is a Saturday.
Looking for more spooky events around town? Check out our Halloween 2010 Events Guide.
Copyright FREEL - NBC Local Media