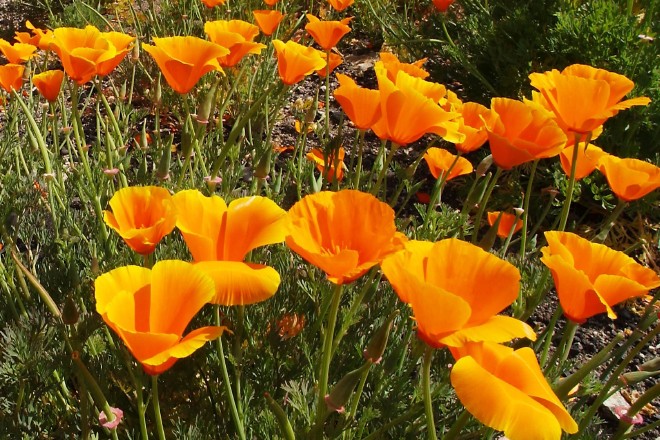 THE STATE OF THE STATE FLOWER: Movies influence us, says basically everyone ever, and if we've learned one thing over the years it is this: When one sees poppies, they're always in profusion, as in a full, flowering field. There also may be flying monkeys and tin men nearby, but we're not sure. Ahem. We also learned from "The Wizard of Oz" that poppies can be magical and they make you sleepy, so perhaps we should question this particular bit of film knowledge. What we should not question, however, is that poppies are pretty glorious whether they're in "Oz"-style profusion or whether there are just a few of them, here and there, popping up out of the ground. Weather and moisture and several factors determine whether Wizard-y, Technicolor flower carpets will show at the Antelope Valley California Poppy Reserve near Lancaster each year or whether the result will be, well. Patchier. It is looking like the latter for 2013, says the reserve's official page, with an explanation as to how the timing of rains and what goes on with germination all impacts how many poppies eventually pop.
TAKE A HIKE: Even if you won't be able to prance through a colorful carpet a la Dorothy and Toto this year, you can still walk the beautiful reserve. Wildflowers do show through late May, and there are other treats to the Mojave Desert Grassland habitat.
MORE FLOWERS: Of course, if you do need your flower carpet this year, you may need to look to a more controlled environment like the Flower Fields in Carlsbad or the petal-filled areas in and around Lompoc, which will get going soon. Even if you do do this, though, be sure to give props to the poppy, our orange-riffic state flower.
(Please don't take us to task on the "orange-riffic" bit; how else to describe the bud's seemingly made-in-Hollywood hue? It's pretty full of kapow.)
Copyright FREEL - NBC Local Media