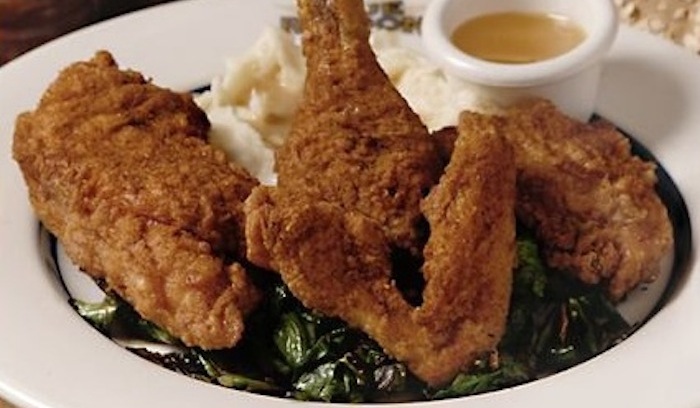 There are certain foods that can be made thousands of ways and still taste pretty good to amazing regardless of the offbeat ingredients. Guacamole? Hamburgers? Ice cream sundaes? They've got a lot of variations, as does that summertime classic, fried chicken.
It's not the meat itself that changes all that much with fried chicken, although how succulent the chef keeps it during the cooking process is certainly important. Rather, the secrets are in the batter, and the frying method, and the spice mix, and the crispy levels. Those things and more will all come under savory scrutiny at LA's first-ever Fried Chicken Festival, which is set to happen at The Coop in Beverly Hills on Sunday, Aug. 26.
Nine local chefs, including Matt Molina of Mozza and The Coop's own Marcel Vigneron and Haru Kishi, will be mixing up their own versions of what batter goes best with fowl. Sides'll be served, and fancy beers, and cocktail punch.
This is Sunday late afternoon/early evening, we'll add, which seems like the ideal stretch of the week to drink cocktail punch. It's not a Tuesday mid-morning drink, but Sunday totally owns that beverage.
Cost is $55 and there's currently a wait list, so get on that thing if fried chicken is your dish. You'll also want to play a part in the especially nice part of the day, which is that the organization Share Our Strength, which combats urban hunger, will get ten percent of the take.
So, what's the secret to the batter? Extra spicy? A hint of salt? All of the above? We always vote "all of the above," whenever possible.
Follow NBCLA for the latest LA news, events and entertainment: iPhone/iPad App | Facebook; | Twitter; | Google+; | Instagram; | RSS; | Text Alerts | Email Alerts
Copyright FREEL - NBC Local Media