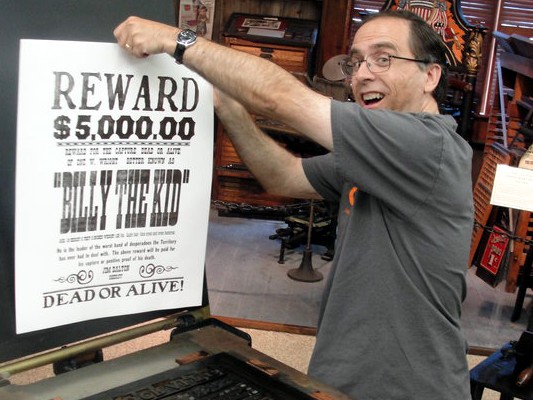 Yep. We're typing these words on a screen, and you're reading them on a screen, we expect. We hope?
But since we both like the written word -- may we be so forward to assume? -- we likely both like the history of the written word, which is very much a part of the storied history of printing.
Printing is still very much around, of course, whatever screens may be glowing in front of us. And the International Printing Museum celebrates the form each and every year with a day stacked high with paperful, historical activities. The 2010 LA Printers Fair:A Celebration of Paper & Print is set for Saturday, September 25 in Carson.
Type-ists (and typists, for that matter) can buy cool letters and such at the swap meet; people sweet on slugs and such can take a tour of the Museum; everyone is invited to watch letterpress demos; and you can get all of your linotype and block-based questions answered throughout the day.
Adult admission is $5. We'd be tempted to make up an old-style poster on one of the vintage machines, but how would a modern web site look done up in a parchment-y, wood-blockian-style? We guess what we're saying is that we love old-fashioned presses and we love pressing the "on" button every morning, too. We love cursive, and cursors. Ink and links.
But we all do, right? It's part of loving words.
Copyright FREEL - NBC Local Media