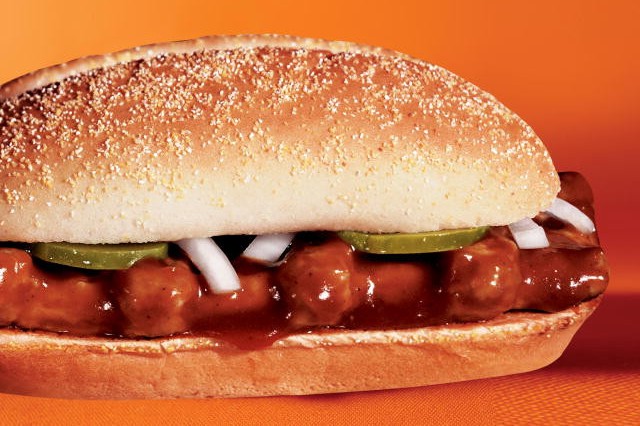 The Sasquatch of the sandwich world, the McRib, has allegedly been sighted in Southern California.
Allegedly.
We have yet to actually see one, but the rumblings have already started online. Down south, readers have been reporting McRib sightings on Fast Food Maven.
"Over the past 10 days, I've received e-mails from readers stating they've spotted the barbecue-slathered pork meat sandwich in San Diego-area restaurants," said Nancy Luna on her blog.
Plus, red dots have been showing up across the Southland on the McRib Locator. Yes, there is a McRib Locator, and for those of you not obsessed with the sandwich, the red dots mean, "McRibs are hot and saucy (sighted in past 10 days)."
On Nov. 11, a McRib was reportedly spotted in Burbank near Reese Place and Magnolia Boulevard. Although according to McDonald's store locator, there isn't a restaurant location in that area -- which leads us to wonder, did this so-called McRib spotter actually see one, or is this just another letdown in our McRib fantasy?
Other sightings have been reported in Ladera Ranch, Irvine and Anaheim. Those have also not been confirmed.
Locator confirmation or not, Fast Mood Maven reports that chain representatives have confirmed the McRib's return for Nov. 30. We'll believe that when we see it.
The cagey sandwich has been shrouded in mystery since its introduction in 1981. It comes and goes and we are all left at McDonald's mercy. Some McConspirists say the sandwich disappears from the mainstream as pork supplies dwindle. Others say the McRib supply is purposefully limited to increase demand.
One story we've heard is that the McRib is actually a gift from space aliens and as part of the agreement with the U.S. government, McDonald's is forced to rotate the sandwich through its many franchises.
Obviously, we can't confirm this alien business, but it's not totally out of the question. Why else would McDonald's wait so long to bring back the McRib?