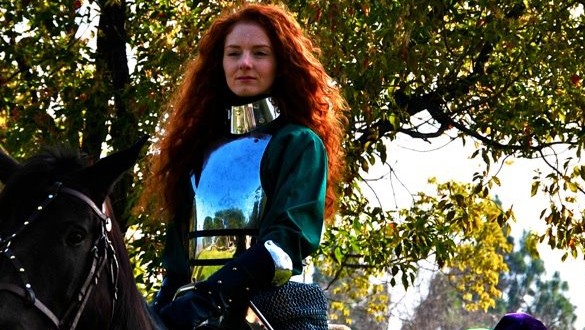 In ye olde movies -- and likely in ye olde olden times, too -- brave knights donned the shiny metal suits and climbed aboard their steeds and trotted off, lance in hand, to joust before the swooning ladies.
True? True.
But that long-standing paradigm is about to get upended when the Renaissance Pleasure Faire opens for its season on Saturday, April 7. This time not all the maidens will be waving handkerchiefs from the sidelines; one will be in the saddle, in armor, ready to face a thrilling time-honored joust.
Meet Virginia Hankins. The Faire describes her as "the first female knight in its fifty year history." Check out the four words that kick off Ms. Hankins's site: "Warrior. Actress. Stuntwoman. Knight."
Righteous. Here's the faire announcing, with pride, "our first female jouster."
So you know when she takes the reins at Santa Fe Dam Recreation Area it certainly will not be a case of a girl lightly playing the boys' game. This athlete and jouster will be bringing it with power and speed (and she'll bring the crowds too, we expect and hope). The jousting at Santa Fe Dam is described as "armored combat," so if you want to see the full breast plates and clanky suits of yore, you will.
We'd like to note that Ms. Hankins also lists "professional lady knight" in her credits, which charms, too.
To keep tabs on when she'll be riding, and all of the Faire's turkey-leg'd, madrigal-singing allures, look here. The Renaissance Pleasure Faire runs weekends from April 7 through May 20.
Follow NBCLA for the latest LA news, events and entertainment: Twitter: @NBCLA // Facebook: NBCLA
Copyright FREEL - NBC Local Media