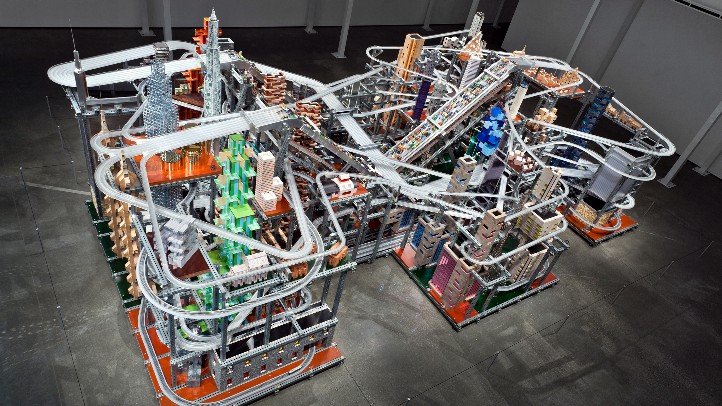 You've likely built a city at some point in your life.
Oh, maybe you did it as a child, with various blocks and toys or forts. Maybe you do it for a living. Or maybe you just have the perfect town in your mind, one that runs smoothly and everyone can get to where they need to go.
Chris Burden, the LA-based artist behind Urban Light -- the clutch of lamps in front of the Los Angeles County Museum of Art -- has also not only imagined a city; he built it. The mesmerizing piece is called "Metropolis II," and it is quite the zingy, impressively sized kinetic sculpture. Meaning all sorts of cars are zooming and speeding along its twirly, twisty tracks at any given moment.
Cool.
"Metropolis II" opens at the Broad Contemporary Art Museum at LACMA on Saturday, Jan. 14; there is no closing date at this time. And in case you're thinking that you can stay home and simply watch the couple of vehicles on your kid's play tracks, check it out: Some 100,000 circulations take place every hour, with some 1,100 cars making the circulations (we had previously thought it was 100,000 vehicles, but still -- very nifty; we're not sure we could keep two miniature cars moving at the same time). And the speed? "240 scale miles per hour." There are 18 roadways and a giant (in relative terms) freeway.
Cool x 100.
Let's also give props to Mr. Burden, who spent four years building this baby. Getting to fast is often a slow process, and to that we tip our driving cap.
And now we invite you to slack-jaw at this video.
Photo: Chris Burden, "Metropolis II," 2010
Follow NBCLA for the latest LA news, events and entertainment: Twitter: @NBCLA // Facebook: NBCLA
Copyright FREEL - NBC Local Media