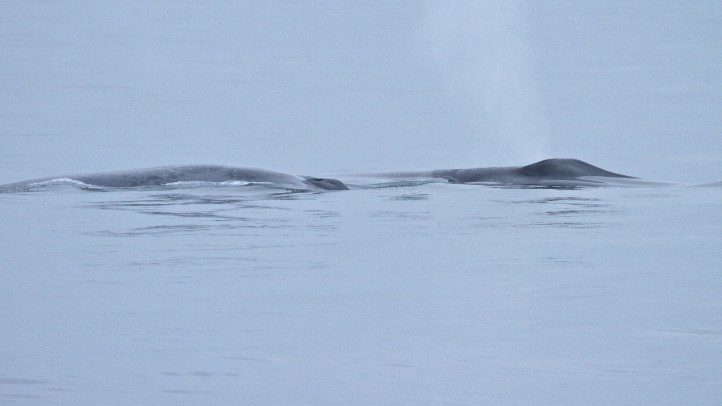 The sighting of a blue whale is not an everyday occurrence (although we suppose it is if you are a blue whale, and you happen to have other blue whales in your acquaintance). But the sighting of a blue whale and its calf? Worthy of remark, and certainly worth some quick pictures snapped and hasty video taken.
The Aquarium of the Pacific is reporting that blue whale sightings have been especially good in recent days, and on Thursday, July 21 a mother and her calf were seen together (look for the two blowholes in the image above). The calf was estimated to be about four to five months old. Sweet.
You can follow other aquatic spottings here -- fin whales and common dolphins are out, too -- or you can hop on the cruise, which lasts about three-and-a-half hours. Price is $63.95 for an adult.
In case you're wondering to yourself, "Self, is the blue whale the largest animal on the planet?" you may answer yourself in the affirmative. So that four-to-five-month-old calf? Wouldn't quite fit into a bassinet. Perhaps a bassinet the size of a studio apartment. We'd like to see such a thing.
Copyright FREEL - NBC Local Media