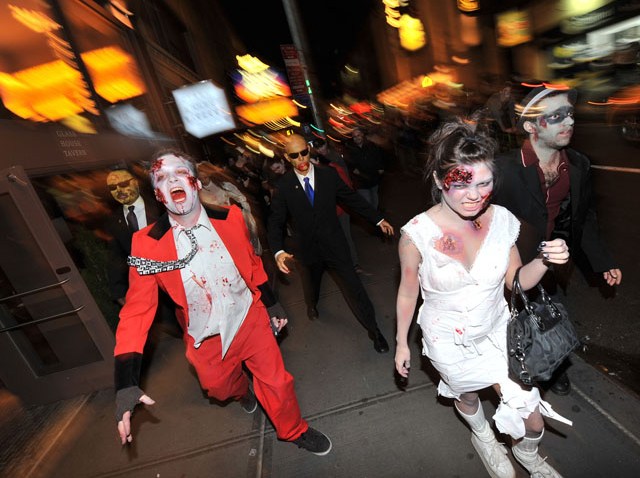 Horror, as any film obsessive will tell you, doesn't merely come in one flavor. There's really, really scary; there's winky fake; there's joke-laden cool; there's elegant quiet; there's romance, which, more often than not, involves a vampire who happens to be on the handsome side.
We support. But when will the goblin get his movie romance due? Studios? Producers? Anyone? Anyone?
There's lots of big-screen horror going down around Hollywood and other LA parts over the Halloween 2010 weekend. If you don't feel so much like dressing up and parading, but rather wearing comfy jeans and scarfing popcorn, here are a few spots to go cinematic:
LA FANTASY FILM FESTIVAL: It's at the Warner Grand. Oct. 29-31. The San Pedro theater is plenty fantasy-filled, so it'll be the perfect spot to see "Dracula" on Oct. 29 or all three "Twilight" saga films on Oct. 31.
OUTDOOR CINEMA FOOD FEST: Two movies, two locations, two kinds of horror. First kind of horror is the fun-satire-running-Emma-Stone-Jesse-Eisenberg-kind with "Zombieland"; that'll be screened at the Corn Fields on Saturday, Oct 30. Second kind of horror is the quiet-snowy-Overlookian-Jack-Nicholson-frozen-maze-kind with "The Shining"; that'll screen at Exposition Park on Sunday, Oct. 31. These are the last two OCFFs of the year, note.
SILENT SCREAMS: Movies from the '20s carry a flickery frightfulness, and there are two excellent ones playing to live musicale accompaniment of the eerie-organ variety. "Phantom of the Opera" is at Royce Hall on Saturday, Oct. 30, and "Dr. Jekyll and Mr. Hyde" is at Walt Disney Concert Hall on Sunday, Oct. 31. Wearing a lacy cloche is probably the way to go with both.
NEW BEVERLY WEEKEND: There are so many tasty little cream-centered treats on the New Bev's calendar it is impossible to put just one in our orange bucket. We will say that cult fave "Trick 'r Treat" is playing for two nights, and the theater is going the classic Universal monster route on Halloween night.
Copyright FREEL - NBC Local Media