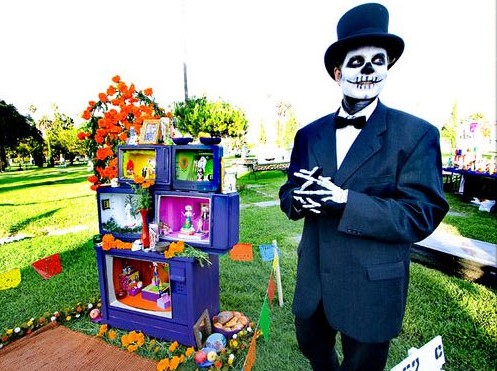 While Dia de los Muertos is observed across Southern California in a number of moving, mirthful ways -- small parties in homes, private visits to family grave sites, art workshops and solemn services -- we also like to call upon the big, lavish celebrations around the city.
Concerts, processions, sugar skulls and colorful altars crowded with personal mementos of affection and remembrance lend the Day of the Dead a sense of joy and continuity for the living, and a way to spend a bit more time with someone gone but still present in the hearts of those who loved them.
Hollywood Forever is the atmospheric setting for one of the largest Dia days in all of California; it's happening in 2009 on Saturday, October 24th. The setting-up of altars begins on the Friday night before the ceremony. Then the next day, visitors are encouraged to think "calaca" (skeleton-like) when dressing up ahead of the celebration; crowns of flowers, bolero jackets, shawls, too.
Attendees should plan on strolling by flower-bedecked altars, listening to dramatic ballads sung by the great Lila Downs, and spending a haunting evening in Hollywood Forever cemetery. Ms. Downs sings at 9PM.
We are pre-enchanted.
$10 (children under 10 admitted free). Saturday, October 24th, 4-11PM. Hollywood Forever, 6000 Santa Monica Boulevard, Hollywood. 323-447-0999
Copyright FREEL - NBC Local Media