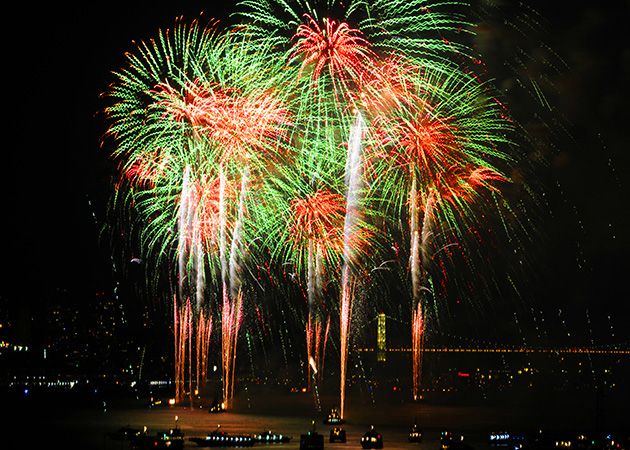 Don't get ho-hum about New Year's Eve just yet. Sure it has its timeworn staples -- balloon drop, messy kiss with someone you may or may not be acquainted with, a flute of something fizzy. But, in a city as large as ours, the options run the gamut. Shall we travel that gamut together?
FREE FREE FREE: It's billed as the largest no-admission party in Los Angeles. It's at Universal Citywalk. There will be a pause for the New York countdown at 9PM our time, and then another at midnight. Plus, DJs, dancing, festiveness. And, we quote: "thousands of pounds of confetti."
LOVES TO DANCE: Giant Hotel and Together as One. Big big big. The party goes into the wee small hours, and then laughs at the wee small hours, and keeps going...
PAM ANDERSON-STYLE: Gridlock New Year's Even on the Paramount Studios backlot will be hosted by Ms. Anderson, with a special performance by Adam Lambert at midnight. 5,000 are expected to attend.
WITH A BANG: Fireworks will begin 30 seconds before the end of the year, ringing in 2010 spectacularly. Marina del Rey.
DINING OUT: Morel's, Patina, and more restaurants have special menus for the celebratory night. And bubbly. Lots of bubbly.
SWINGING DOWNTOWN: Big Bad Voodoo Daddy jazzes up Walt Disney Concert Hall with two swingin' shows.
HAS TO MOVE -- LITERALLY: Climb aboard the Fillmore & Western Railway for dinner, dancing and bubbly. Oh, and some chug-chugging along in a vintage train. Entertainers dressed as legendary movie stars will also be making the journey.
SLEIGHT-OF-HAND FANS: Magicopolis, that Santa Monica nexus for mind-blowing tricks, is welcoming 2010. Do they throw a puff of smoke before the new year gets here, we wonder?
CATALINA ISLAND: A balloon drop, a famous landmark, the wide-open ocean. We're fans of New Year's Eve at the Casino Ballroom. Old-school class.
NEIGHBORHOOD-Y VIBE: Get a pitcher and grab a table as EB's at Farmers Market hosts a Totally '80s New Year's Eve. It's free to get in, as always, and the tunes will be highly Lauper-esque. Still have your Boy George get-up? Wear it.
"SAFE 'N SOBER": Magic Mountain will host its second annual "Six Flags Rocn n' Ride New Year's Eve Party" for youth and families. On the docket: Guitar Hero and DanceDanceRevolution competitions and karaoke.
OCEAN ADJACENT: The Queen Mary is doing it up with five parties, and midnight fireworks off the stern. Do not be tempted to act out the scene from "Titanic"; oh, it's nearly a new year, why not?
Copyright FREEL - NBC Local Media