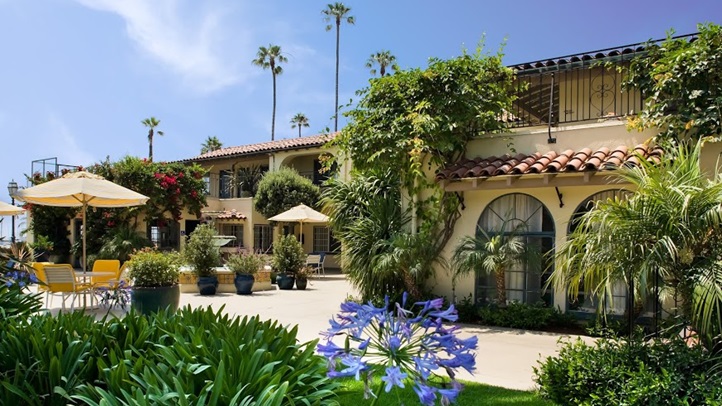 IF YOU WERE CALLED UPON... to give a hotel a name, how would you go about it? Would you consider the wider region of the building first, the weather, the landscape, the local flora and fauna? How about local history and characters? Or would you name it after yourself? Okay, okay, plenty of hospitality moguls do just that, but many an inn bears a moniker that references, with class and prestige, something to do with its place or past. Hotel Oceana of Santa Barbara long landed on the first. The "Oceana" bit was no mere flight of fancy, given that the waves are just a few minutes away (a few minutes by foot). But the pretty, petal-nice property at 202 W. Cabrillo Boulevard is getting a new handle, as of May 1, and it recalls a slice of Santa Barbara history. The name? Hotel Milo.
AND "MILO" REFERENCES... "Santa Barbara's most prolific hotelier, Milo Potter." Mr. Potter's Potter Hotel, which once sat on Hotel Milo's footprint, summoned an early spotlight to the American Riviera at the start of the 20th century. If you're picturing a lavish getaway made for Victorian revelers, complete with airy dining rooms and a crisply uniformed staff, you'd be correct. Modern hotel life, close to the beach, is far easy-breezier, and thank goodness, and Hotel Milo will reflect that right down to the loaner bicycles and palm tree-lined gardens. There are 122 guestrooms and suites in all, and you can be sandy of foot in under five minutes (meaning lingering in the gardens, or heading down to the beach, is your choice).
THE INDEPENDENT COLLECTION... is the property's new owner. It's the tenth place in the group's portfolio, and its first West-Coaster. Want to know more about Milo Potter, beach cycling, the Urban Wine Trail, the Funk Zone, and La Vida Santa Barbara? Pedal this way, adventurers.
Copyright FREEL - NBC Local Media