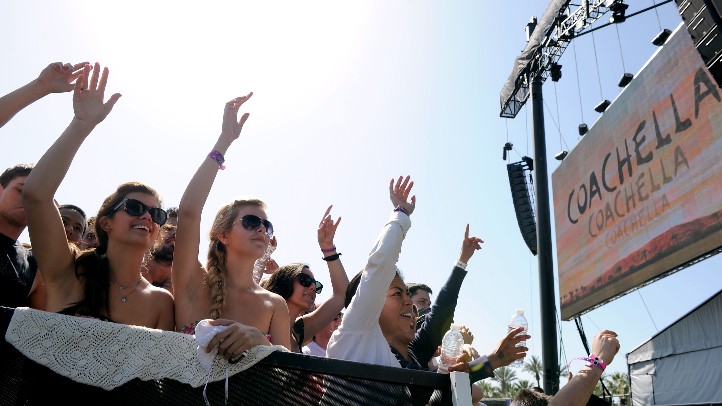 Generally terms like "supersonic" are saved for matters of space and time and distance. But saying that tickets for the 2011 Coachella Music and Arts Festival sold out at speeds resembling something of a supersonic nature isn't too much of a stretch.
They went fast, very fast, back in January. And now the rooster has come home to roost for fest fans who were quick on their feet, or, rather, quick in the removing of their credit card from their wallet. It's nearly Coachella time, meaning thousands upon thousands of people will be trekking* to the desert some two hours east of our fair city.
The dates are Friday, April 15 through Sunday, April 17 and the headliners include Kings of Leon, Arcade Fire, Kanye West, and the Strokes. Other incidentals/know-a-dentals: Hotel shuttles'll be running and how, to handle crowdage. There's a Coachooser to help you map your days. And the high in Indio on Saturday is predicted to be 96 degrees.
Hello, mini hand fan. Hello, SPF 90.
If you didn't get tickets, you can see past Coachellas in beautiful 3D imagery. And you can follow along with the tweetery. You can also using the word "trekking" a lot, which we asterisked above. It's an important word when when is attending a desert music festival, right? One doesn't simply "go" or "drive" to Coachella. Really good words exist for really good reasons.
So. Happy and safe trekking, Coachellers.
Copyright FREEL - NBC Local Media