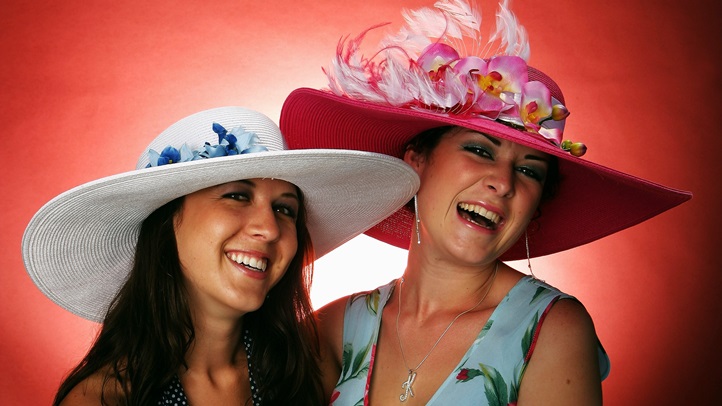 SOME YEARLY PARTIES... have to go looking a little hard for something worth throwing the proverbial confetti over, when it comes to opening day. It isn't that the event isn't fun or lively; rather, maybe not enough time has allowed the happening to build up some history, some lore, even a little cred. Del Mar Thoroughbred Club, when it comes to the debut day of its storied summer meet, kind of has the opposite issue, if we can be totally frank.
It's flush with Really Big Things, from the Hollywood past of the ocean-close track to the famous horses ready to run to the fashions and famous chapeaus that people don, and grandly strut about in, come day number one. It is, as they so often and truly say about events laden with Really Big Things, a feast of riches, and deciding where to focus one's attention may be the most challenging task. Are you up for it? How is that fancy, in-theme hat coming along? Is it high enough, and whimsical enough, though? Just asking. Stick it on your noggin, dear equine enthusiast, and trot for Del Mar, where Opening Day shall clip-clop into view on...
THURSDAY, JULY 16: The buzziest news of the still-to-come meet was unveiled days ahead of Opening Day, and it is this: No less than American Pharoah, the newly wreathed Triple Crown winner, is in the house, and while he's not racing, he will be on the grounds for a couple of weeks stretching a leg and engaging in some training. While the crowds coo over a superstar in their midst, they'll also take in the parade of hats, a Del Mar opener must that's both hoity and toity (and lots of fun for lookie-loos). There's a contest afoot -- we mean ahead -- so count on hat-wearers to Go. For. It. An Opening Day party in an ocean-vista-enjoying cabana is part of the dressy social confab, too. What? You're sticking around for Opening Weekend? The whole shebang, races and concerts and all? Hang tight, revelers; a Wallflowers concert, the always-talked-about Donut Day, and a Family Fun Day are on the mane schedule. Yes, we said mane. It's horsey season 'round Del Mar way, after all.
Pictured: American Pharoah (Getty Images)
Copyright FREEL - NBC Local Media