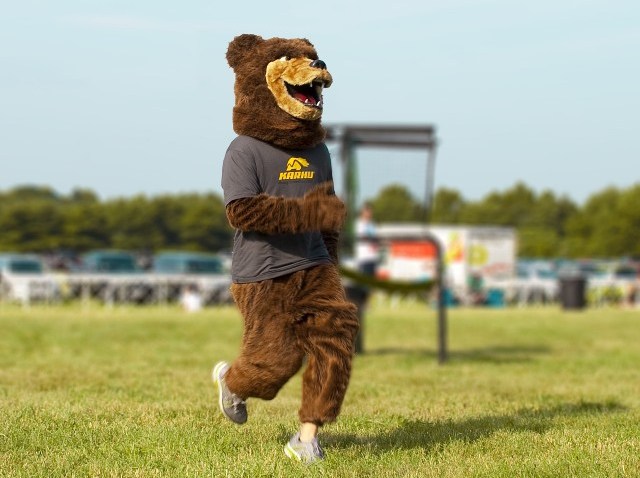 It's a big Tinseltown kind of weekend, given the Golden Globes globing up Beverly Hills, so the idea of a Hollywood-themed half-marathon going down kind of fits.
Of course, there's also a bear running the Venice-located 13.1 Marathon, too, and we're not sure where he quite fits in with the movie mojo. Well. Lots of films feature our ursine friends, right? "Gentle Ben"? "Hotel New Hampshire"? It works.
The bear is representing Finnish gear company Karhu, which will give any participant who beats the furry guy to the finish line "a ticket good for a FREE pair of Karhu running shoes of their choice from the Top to Top specialty running store." Well, we now know for sure that not only is the bear dang cute, but he's probably extremely swift of foot. Paw? Anyway. It's a challenge, if you're up to it. (Note you only need to beat the bear in the 5K, not the half marathon.)
Karhu, by the by, means "bear" in Finnish.
There will be other entertainments in and along the way, including fire dancers and drumming. And frou-frou food trucks, of course. And a beautiful weekend to enjoy them all. We're just thinking the bear should keep well hydrated, given the fact we'll be high in the 70s. But he knows about hydration, right? He lives next to streams, and stuff?
The 13.1 Marathon steps off from Ocean Boulevard and Rose Avenue on Sunday, Jan. 16. Times/details/bear to-knows.
Copyright FREEL - NBC Local Media