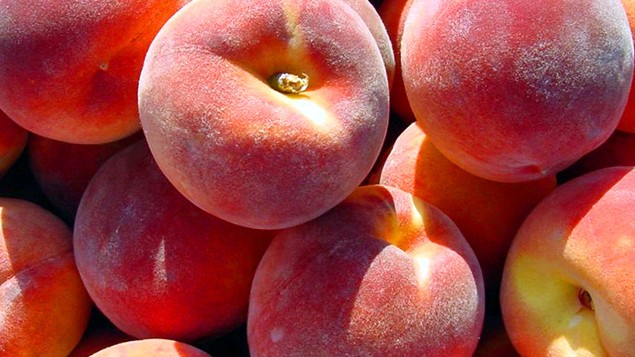 Peaches? You have a way of coming along right when we need you. August happens to be the roastiest of months 'round these parts, meaning we crave something refreshing and juicy to dribble down our shirt as we consume it. And August, as it so happens, is the National Month of Peachery.
The peach industry knows how to pick the right moment, and restaurants around LA have seized it. Here are some of the peach-based eats we're thinking of to cool down:
Magnolia Bakery: The Third Street cupcake-a-torium is turning it over to a certain stone fruit all month long. Look for peach muffins, peach crumb pie, and something called the Peach Jamboree, which we can get into. Number one? We're love anything with "jamboree" in its name. Number two? It involves pecan shortbread and whipped cream, so yay that.
City Tavern: Picture a shrimp salad full of bright tawny peach slices. Interesting, right? We're into the idea. We're trying to think if we've ever really paired these two foods before, in our mind. Novel, and probably tasty to boot.
Blue Cow Kitchen: The dish is called Peaches, Burrata, and Ham. The spot is Grand Avenue. And the star fruit? Kissed with balsamic and grilled. Yep, we said "kissed." It's August and it is warm; are we going to get guff for that? We should not.
The Lazy Dog Cafe: A pitcher of White Peach Sangria is a smidge under nineteen bucks at this small chain. Should August also be National Sangria Month? Probably, right?
MB Post: The Manhattan Beach eatery is serving a French Toast filled with peaches, pistachios, and housemade ricotta. French Toast is our official November morning food, but we'll make an exception here.
And finally... Miramonte Resort & Spa in Indian Wells has posted this Peach Salsa recipe, which we will stare at, wanting, before we get up and finally get the ingredients together to make it. It is toasty, after all, and August, but this salsa might lend the pep we need, and put us in a peachy frame of mind.
Follow NBCLA for the latest LA news, events and entertainment: iPhone/iPad App | Facebook; | Twitter; | Google+; | Instagram; | RSS; | Text Alerts | Email Alerts
Copyright FREEL - NBC Local Media