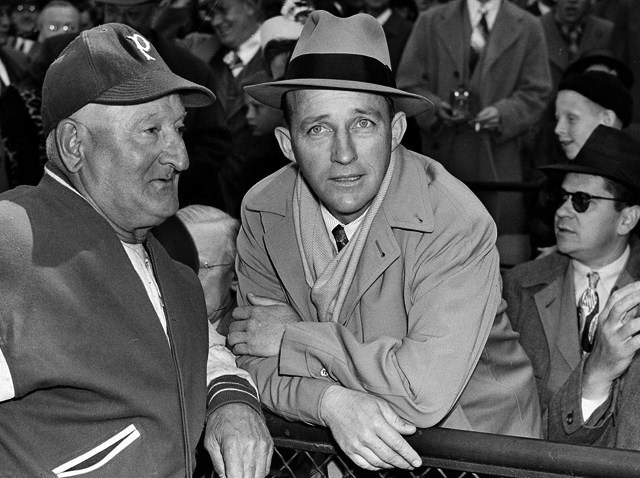 After Santa, who do you think of when you think of this time of year?
Okay, maybe Heat Miser. Or Rudolph. Or Baby New Year. But we'll add another great person to that line-up: Bing Crosby. Somewhere, right now, a radio station is playing a holiday tune by Mr. Crosby; somewhere, right now, he's gently boop-boop-booping, in a red hat, in some merry movie.
So it make sense that some friends and family will be getting together, plunk in the middle of December, at the Paley Center for Media to remember the Tinseltown legend, via stories and a screening. The date is Wednesday, Dec. 15, and the line-up is enough to making any Tinseltown fan go completely homina.
Let's start with Richard M. Sherman. Just. Richard M. Sherman! This man co-wrote the songs in "Mary Poppins" and "Jungle Book" with his brother Robert. Oh, and Mitzi Gaynor. Let's give Ms. Gaynor a big exclamation point, too, or a few: !!! She was only Nellie Forbush in "South Pacific." Biggest best role biggest musical biggest biggest biggest. We said "biggest," right?
(If you live in LA and *don't* get excited about musical movie stars, we invite you over to the exclamation point-laden side. It's nice over here. Embrace it.)
The documentary "Down Argentine Way: Bing Crosby in Buenos Aires" is on the evening's agenda; so is an appearance by Mr. Crosby's daughter Mary. All holiday-happy stuff for people who love Hollywood and remain mad for Bing.
Copyright FREEL - NBC Local Media