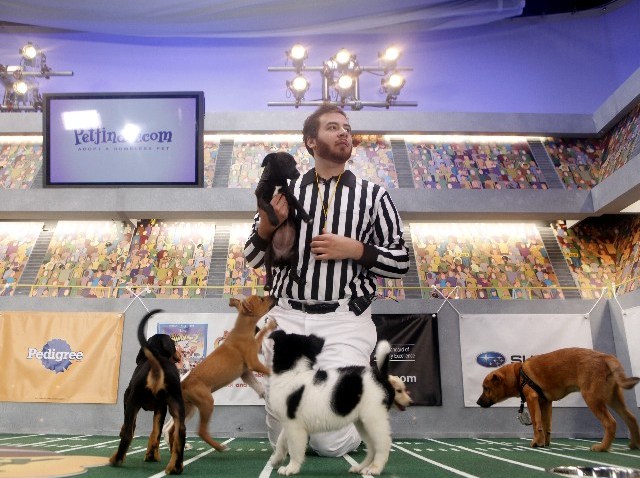 Most people likely fall into three categories come Super Bowl Sunday. The largest? Super Bowl fans, of course. But very close behind are two categories we can all likely relate to: people who like eating copious amounts of snacks, the types of snacks they don't normally consume the rest of the year, and people who like watching puppies at play.
"Puppy Bowl" on Animal Planet has become so successful, so awwww'd over, and so watched that it will be celebrating lucky year 7 in 2011. And Cinefamily is marking the occasion by screening the Super Bowl-adjacent staple on the big screen at Silent Movie Theatre. Date? Well. Super Bowl Sunday, of course, at 2 p.m.
You know "Puppy Bowl," yes? Small dogs romping around a field for several hours? Stick this show in the Can't Get More Engrossing files.
There will be some other dogly to-dos, including an adoption fair (but leave your own pup at home, Cinefamily asks). Silent Movie Theatre neighbor Barks n' Bitches is leashing up its rescue concern, Jimi's Angels, for the day. Check out some of the cuties who need homes now. We think we just made an internet love connection with Auggie. Good luck, Auggie and every dog!
And a BBQ, which isn't especially dogly, but is something the theater likes to do on special occasions. Arrive with your own grillables.
A film will also be shown -- TBA -- but we're hoping "Benji" is in or near the title. Or something Benji-esque. Is it possible to type the name "Benji" without welling up, just a smidge? Answer: It is not.
Copyright FREEL - NBC Local Media