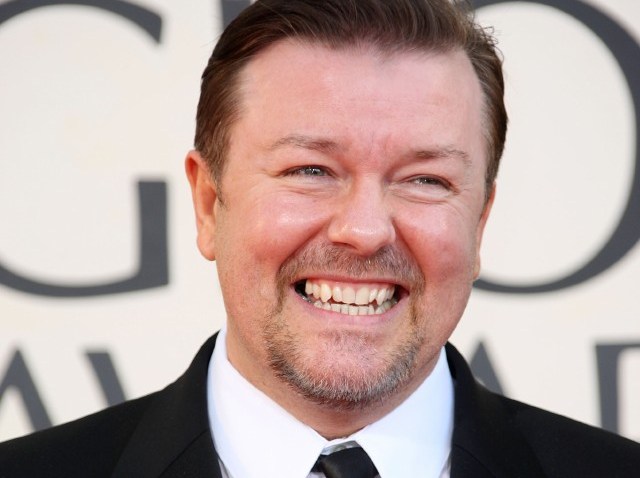 David Brent must be soooo jealous.
After all, the head of the British version of "The Office" is usually quite full of himself. So to see a guy, this "Ricky Gervais," who looks a lot like him, about his height, about his weight, same hair, same sweet grin, get asked to host the Golden Globes in glittery Los Angeles..?
NOT feeling chuffed, we suspect. Feeling fidgety and nervous of stomach, more like.
And yet, we'll all be very chuffed to see the hi-lar-ious Mr. Ricky Gervais make for the Beverly Hilton come January. Plus, it has been a long, long while since the awards show has had one person at the helm of the night. His hostingship of the annual Hollywood Foreign Press Party was announced by Variety on October 26th, giving him loads of time to come up with gags and quips and cutting asides about this year's crop of movies and television shows.
Even his recent film "The Invention of Lying" may be up for his jokes. Ricky, we enjoyed. Jab it if you will, but not too hard. Gentle.
Plus, the Golden Globes? Notoriously liquored up. Bet Mr. Gervais'll work with that, somehow, and he'll be deviously cheeky while doing so.
We're happy. Come the post-holiday doldrums and the arriving of the bills, we need cheer, and Ricky Gervais is just our flavor.
Copyright FREEL - NBC Local Media