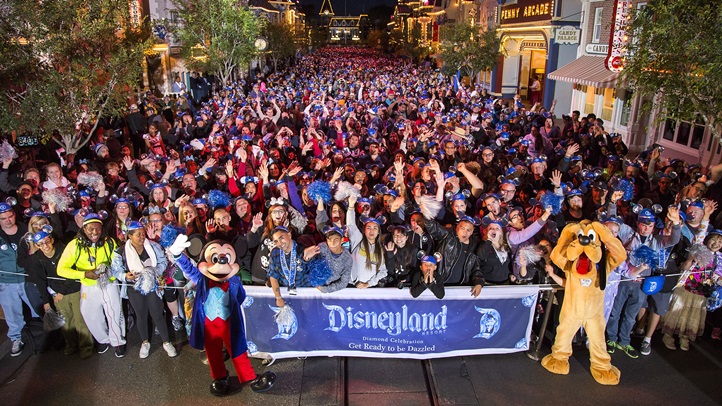 TO SAY THE MIDDLE OF JULY... is a very big time for a certain world-famous theme park located at 1313 Disneyland Drive in Anaheim, California, would be like saying a ride on Space Mountain was "pretty okay" and noshing a churro while staring at Sleeping Beauty's Castle is "fine, I guess." It's all understatement, in short, because churro eating and Space Mountain riding and the middle of July being big are rather outsized things for the Magic Kingdom, which is running up to its official 60th anniversary on July 17, 2015. True, true, the whole 60th Mouse-marvelous shebang kicked off on May 22, for the summer celebration, but the park opened on July 17, 1955, which means fans'll be out in force come the actual day. Some of those buffs are starting the party early, though, in Garden Grove, and with none other than a Disneyland legend in their memory-making midst: Marty Sklar. The longtime Imagineer contributed much to the Disney parks -- he worked on Walt Disney's Enchanted Tiki Room -- and he'll be sharing some of those stories at the Disneyana Benefit Dinner at the Wyndham Anaheim/Garden Grove Hotel on Wednesday, July 15, at a benefit for Ryman Arts.
"MEMORIES OF DISNEYLAND"... is the theme of Mr. Sklar's address, but several icons of the park and company will be in attendance. Know Margaret Kerry? Of course you do, Mouseketeers; she served as the model for Tinker Bell. Garner Holt, an audio-animatronics wizard, will also be in the house. And on raffle? Lunch for four with Mr. Sklar at The Smokehouse, a perfectly fitting Burbank institution, given its history and Hollywood lore. You can see why these beloved artists and creative legends support Ryman Arts; the organization "brings together students from over 150 neighborhoods in Southern California and provides them the opportunity to obtain professional level art training, as well as college and career guidance at no cost to the students or the families." It's a tenet that folds nicely into the themes of Disneyland, which are very much about dreams coming true.
TICKETS AND INFO? Don your Mouse ears and ride the Carousel of Progress to this site.
Copyright FREEL - NBC Local Media