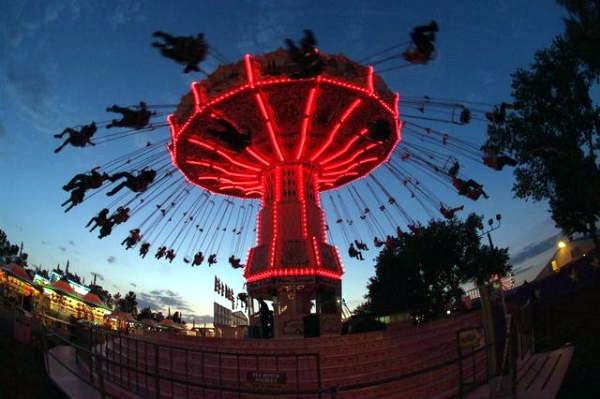 SUMMER STOPPED BY: It's hard to see that we're just getting into the thick of summer carnival season, what with school still being in session and these damper May Gray days. But we are, and arriving to prove that fact is the San Bernardino County Fair, which will be midwaying-it-up from Saturday, May 14 through Sunday, May 22.
MUSIC ACTS: Skillet, Bucky Covington, Gerardo Ortiz, and Creedence Clearwater Revisited will be playing for fair goers, while a demolition derby and various moto riders will do the voom-vooming thing. Oh, Clay Walker is on the concert bill, too, along with other intriguing performers.
MORE FAIR FUN: If one is thinking about attending a county fair, one must visit the Competition Handbook to see what's in store. Yep, quilts and pies will be judged, as expected, but some other interesting items of note include Chicken Olympics, Baked Foods Men Only, and Doris Davies Diaper Derby.
TICKETS: The "Everyone's a Kid" promotion means an adult ticket is five bucks; some of the concerts are ticketed separately, but a few are free with fair admission. Oh, and location: Victorville. Hi, Victorville!
Copyright FREEL - NBC Local Media