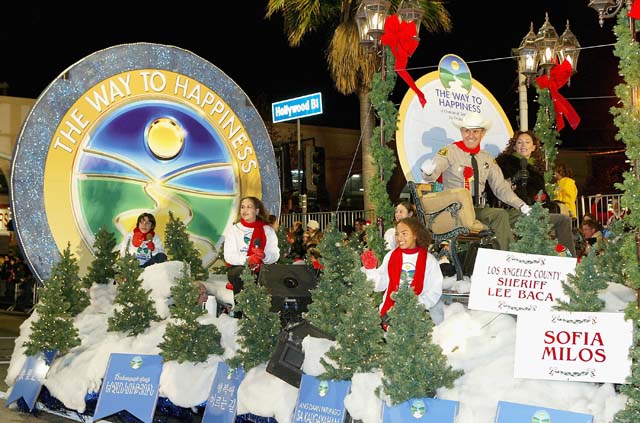 The Hollywood Christmas Parade will wind down the streets of Tinseltown Sunday evening, Nov. 29, with a host of special celebrity guests, musical numbers and even some giant balloons.
Actress Susan Lucci will be this year's grand marshall, but she will have to take the back seat to the jolly man in the red suit.
The crowd will catch glimpses of Santa throughout the 2.5-mile U-shaped route, which starts at Hollywood Boulevard, near the Hollywood and Highland Center. As Santa passes the Winter Wonderland attraction, he will magically wave and light a Christmas tree. How? Because he's Santa.
Other celebrities to participating in the festivities with Lucci, who plays Erica Kane on "All My Children," include Oscar winner Louis Gossett Jr., Grammy-nominated singer Brian McKnight, comedian Shawn Wayans, former "American Idol" contestant Ace Young, talk show host Montel Williams, actors Lorenzo Lamas and Lee Majors, and athletes Lisa Leslie and Luc Robitaille.

The parade will include about 100 celebrities in all, 14 bands, eight equestrian units and eight giant balloons.
The giant balloons, making their debut in the parade, will include one that looks like The Grinch and another that looks like The Cat in The Hat.
Tens of thousands of fans are expected along the route. Those willing to pay $35 can sit on bleacher seats and enjoy the view.
For the first time in its 81-year history, the parade will be a two-hour prime time special on national network television -- though it will not be broadcast until Dec. 10 and again on Christmas Eve. "Hey, look mom, I'm on TV!"
This is a great opportunity to see Santa before he gets really busy with the high demands of the season; mall visits, making sure the elves keep busy and the checking of his list to see who's naughty or nice.
Copyright Archive Sources