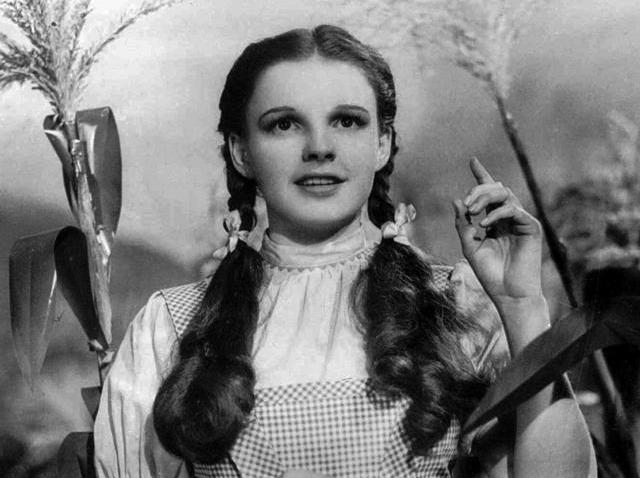 You know how quickly the house flies up into the twister in "The Wizard of Oz"?
Yeah. It's fast. And when we heard Grauman's Chinese Theatre would be screening The World's Most Famous Film of All Time Forever (tm) as part of its Monday nights, 85th anniversary series deal, we thought tickets would move as zippity as the house.
Because, wait for it: The tickets are a quarter a piece. Which is, wait for it: Just pennies off what a movie ticket cost when "The Wizard of Oz" debuted in 1939.
But the Monday, Sept. 17 screening *has not* sold out, which not only astonishes but makes us think Glinda and her good-witch-ness might be up to something. Seriously, people. "The Wizard of Oz." Grauman's Chinese Theatre. This is the movie and movie theater that all other movies and movie theaters dream of growing up to be one day.
You can get your ticket here. There is a dollar surcharge to order online , so maaaaaybe calling it a quarter is a stretch. But it does tickle when the surcharge surpasses the actual price.
And if you want to put forth that there are more storied films than "The Wizard of Oz," we're open to other entries. We also invite you to take a stroll down the boulevard, before the film, and look at the various souvenir shops and the mugs and the postcards and the t-shirts. Dorothy, Dorothy, Dorothy, Toto, Dorothy, The Wicked Witch of the West, the Cowardly Lion, Dorothy, over and over.
The word "iconic" doesn't even nearly go far enough.
Follow NBCLA for the latest LA news, events and entertainment: iPhone/iPad App | Facebook; | Twitter; | Google+; | Instagram; | RSS; | Text Alerts | Email Alerts
Copyright FREEL - NBC Local Media