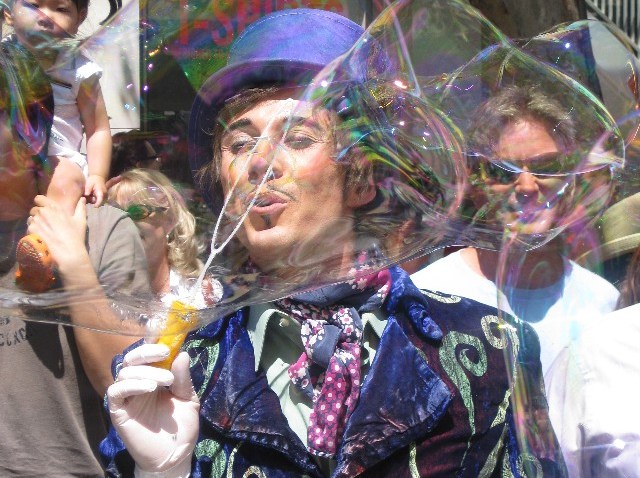 It's not often that one exits a store, debating whether they really needed that tee in red *and* purple, when one is met by a juggler or someone walking on their hands or a parrot man doing back flips.
Call it a life-affirming moment. Call it a strange and wondrous moment. And call it Cirque du Soleil at the Grove on Sunday, Aug. 22.
Those stilt-walkiest, most tumbly of outlandish acrobats are headed back to the alfresco shopping center for a free afternoon of mischief and cartwheels and clowning and mystery. Representatives from "Mystère," "O," "Criss Angel," "KÀ," "Zumanity," and "VIVA ELVIS" will be scampering about the Grove's park area, starting at 1 p.m. on Aug. 22.
We should add that a "circus play area" for young Cirque fans will open at 11 a.m. Performers from "The Beatles LOVE" will be roaming and delighting in the area. The earlier kids start on the Beatles the better. Learn all the words to the White Album. Talk about Sgt. Pepper's symbolism. Start them young.
But hold the balloon for one second. Aren't these all Las Vegas shows? Why yes indeedy, they are. The free Grove outing is in support of the Summer of Cirque, and here's the page where you read about all the Cirque-y ticket deals.
Las Vegas is, of course, close enough to drive to, but we do not recommend journeying there via stilts.
Copyright FREEL - NBC Local Media