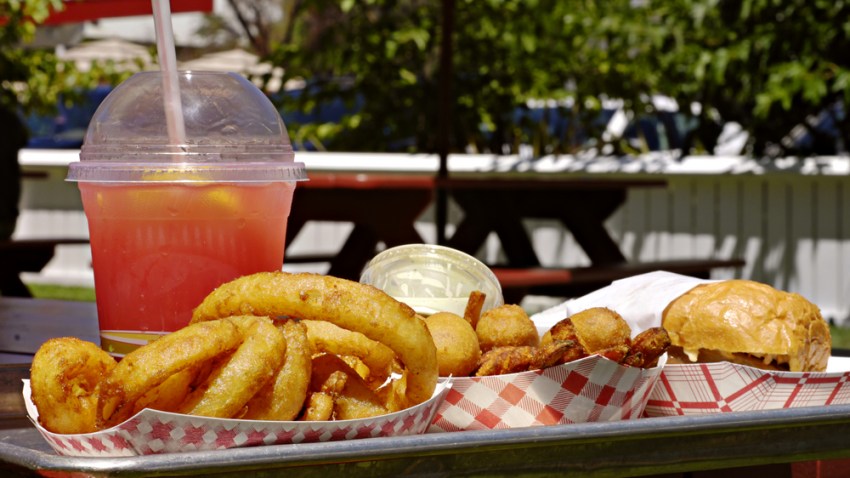 It is a wonder nowadays if you don't come across a clutch of food trucks somewhere around town, all gathered together as they put together plates of poutine or crepes or cupcakes or some combination of a poutine-crepe-cupcake meal.
But for some people there is one missing element to this scene, all too often: the beach. Yep, it is one of life's great pleasure to eat something a little salty and a little sweet just steps from the waves. And while we love our beach restaurants here, if you haven't gotten sandy during supper in the last year, you're not taking full advantage of your SoCal location.
Enter Beach Eats. The new Marina del Rey culinary-on-the-quick event will happen every Thursday night through the summer and the food math is simple: Invite some local gourmet food trucks, let 'em park a short walk from the shoreline, and, voila. (We realize "voila" isn't a typical end to a math problem, but it works here.)
Marina "Mother's Beach at 4101 Admiralty Way is the location. The hours? A not-too-late, just-off-work 5 p.m. to 9 p.m. Nom Nom and Baby's Badass Burgers are two of the trucks set to show.
No end date is listed for the Thursday night Beach Eat gatherings but the initial foray kicks off on Thursday, July 26. And if you can't go the whole sand-in-your-shorts route while you sup, take heart; there are picnic tables at Marina Beach.
Follow NBCLA for the latest LA news, events and entertainment: iPhone/iPad App | Facebook; | Twitter; | Google+; | Instagram; | RSS; | Text Alerts | Email Alerts
Copyright FREEL - NBC Local Media