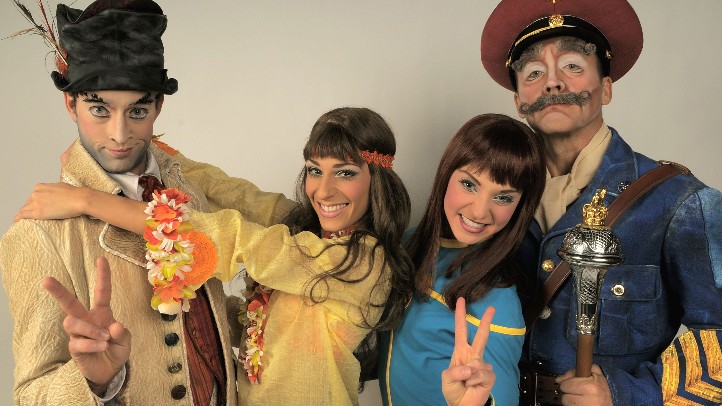 The stars may have turned out in Las Vegas for the fifth anniversary of "Beatles LOVE" -- Paul McCartney, Olivia and Dhani Harrison, Yoko Ono, and Sean Lennon also made for the Mirage on June 8 -- but the magical mystery tour has pulled into Los Angeles.
Nope, the Cirque stage show is staying put on the Strip, but costumes and props and other LOVE-cool stuffery has gone on display at the Grammy Museum to celebrate that half-decade marker. The exhibit won't run quite as long as "Beatles LOVE," but it'll be downtown for a good while. A good while here means through February 2012.
The show will feature "13 unique looks from the show never exhibited in a museum." We spied a picture of the Lucy dress and it is quite remarkable up close. There will also be a short documentary playing, instruments, and other objects of a walrus-wonderful, octopus-perfect variety.
If you've seen "Beatles LOVE," you likely recall attempting to look everywhere at once, not to miss a thing. Figure the Grammy Museum exhibit is a good way to look everywhere at once, or a lot of places, at least, and soak up the sartorial artistry from a close distance.
Which is pretty coo coo ca choo, when you think about it.
The Beatles LOVE: A Fifth Anniversary Cirque du Soleil Showcase debuted at the Grammy Museum on Wednesday, June 8 and will run through February 2012.
Copyright FREEL - NBC Local Media