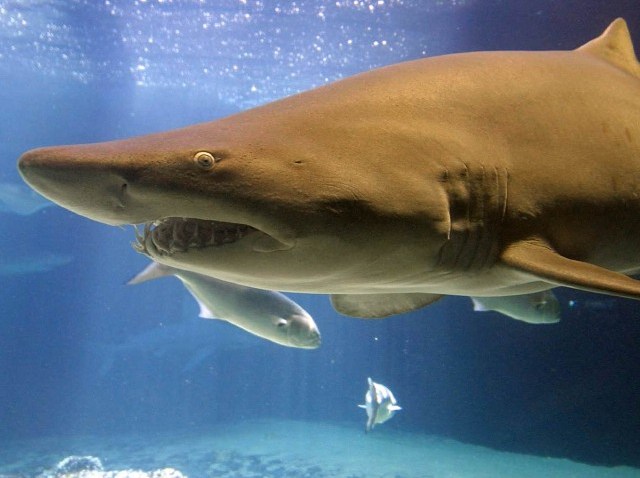 SHARK SUMMER SUNDAYS: Nope, the sharks are not leaving the aquarium. They'll still be gliding around, looking sharky and toothy and magnificent. What is ending: Shark Summer Sundays, those late-night Sundays at the Aquarium of the Pacific. Why go: well, the sharks, natch, but the later hours and the discounted admission are sweet, too. The special series wraps on Sunday, September 6th. We're gnashing our teeth. This has been going on all summer. We've got to get there, faster than a fin breaking water...
FREE MUSIC THURSDAYS AND FRIDAYS: A free Farmers Market tradition that wraps for '09 on Friday, September 11th. The show's on the West Patio, from 7-9PM, usually with a break for the band around 8-ish, but a word of advice: if you're planning on eating, and you want a table and a seat, arrive early. Because people are staking out their whereabouts, oh, starting in the late afternoon. But it is well worth it. Bonus: You're feet away from the Gumbo Pot. Hot beignets, the Thursday brightener.
TWILIGHT DANCE SERIES: Such the staple of the Santa Monica summer. We're always sorry to see it go. But, not surprisingly, the annual Pier-based event has a big finish: Patti Smith and Her Band on Thursday, September 3rd. And, as always, the concert is free. The views are free. The feeling of being at the end of the continent, on a famous landmark, dancing, under the night sky, is bigger than free.
Copyright FREEL - NBC Local Media