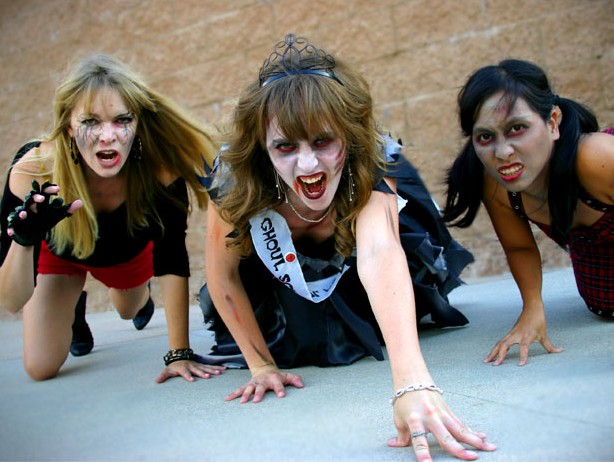 Happy zombies hoofing it in downtown Los Angeles? Rrrrrowr (which is "we like" in zombie-speak). Throughout the world, at hundreds of locations, thousands of undead will rise and rock out to Michael Jackson's "Thriller" in full, raggedy-tuxedoed, stiff-arm-flailing glory.
The date(s)? Saturday, October 24th and Sunday, October 25. But, even though there are two dates listed, Thrill the World is a simultaneous event, meaning all the dances happening everywhere will go down about the same time. Hence the two different dates.
The Thrill the World site has a full time/place chart. Zombies and their charts. So clever.
The SoCal zombie contingent dances at L.A. Live downtown on Saturday, October 24th at 5:30PM. Even if you don't participate, you can certainly watch all those zombies do their chilling cha-cha.
After all, they've been practicing their legs off (maybe not literally, but these are zombies, after all) in the days leading up the giant, grunt-y event, so we're eager to observe what all the vigorous zombie practice has wrought: grooving hips, heads lolling convincingly to one side, shimmying shoulders. After all, the monstery mass ode honors one of the most sublime music videos ever put to film (we even attempted to memorize Vincent Price's chilling narration as youths, but failed), and bow before its greatness we must.
Will any real zombies from that fabled video, shot back in 1983, show up to show they've still got the stuff? This is Tinseltown after all. This is the very city that "Thriller" was made -- in fact, "Thriller" was shot not all that far from L.A. Live -- and a little movie magic may be the order of the day.
Copyright FREEL - NBC Local Media