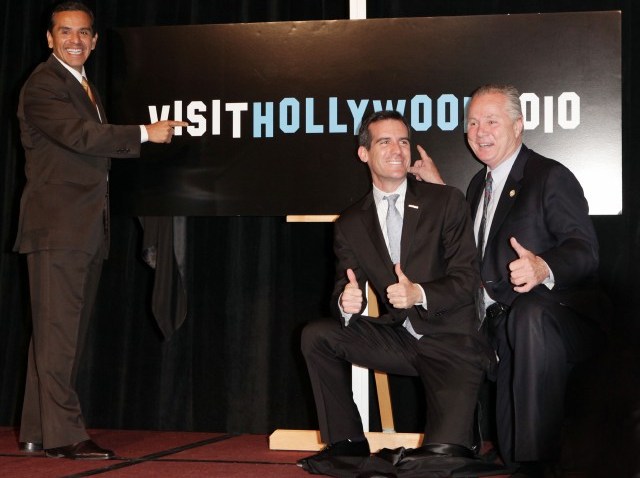 The last time we saw city council member Tom LaBonge he was singing. In a video. And the video was a love letter to Los Angeles.
It's no shocker, then, that the city official was out with the mayor and Council President Eric Garcetti a few days back, talking up the spankin' new Visit Hollywood 2010 program, which is a multi-month spotlighting of various debuting and just-debuted stays/sights(think the new W Hotel and the upcoming King Kong attraction at Universal) and good discounts around the area.
Plus, Visit Hollywood will be celebrating the Rock Walk's 25th birthday. And the Walk of Fame's 50th. And Starline's 75th.
Starline's 75th! Wish we could ride along with the tourists-on-tour company circa 1935 for day. We're picturing it now: "On our right is the Chinese Theatre, on our left is the famous Roosevelt Hotel..."
Well, wait. That could be today, too, actually.
To soak up all the Hollywood-i-ness that you need, and to get info on coming attractions, to-dos, and various money savings for you and your out-of-towners -- because, starting soon, we'll all have out-of-towners -- stop by the Visit Hollywood sections at ExperienceHollywood.com and discoverLosAngeles.com.
Copyright FREEL - NBC Local Media