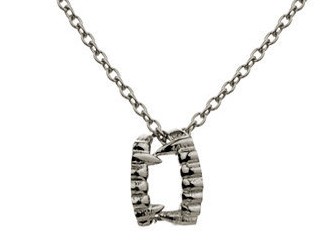 If you were at "The Twilight Saga: New Moon" premiere in Westwood last night, you probably know all about this. You probably own this. You probably wore this as you stood with thousands of other Twilighters, screaming.
Designer Jules Smith has a whole New Moon jewelry line. There's a bracelet, a necklace, and good luck charm. The common denominator? Very pointed, very bicuspid-y, very vampiric teeth.
The necklace, which comes in gunmetal, yellow gold, and silver, is $70. It's both perfectly pretty and very keep-your-distance, in a Cullens-in-the-cafeteria kind of way.