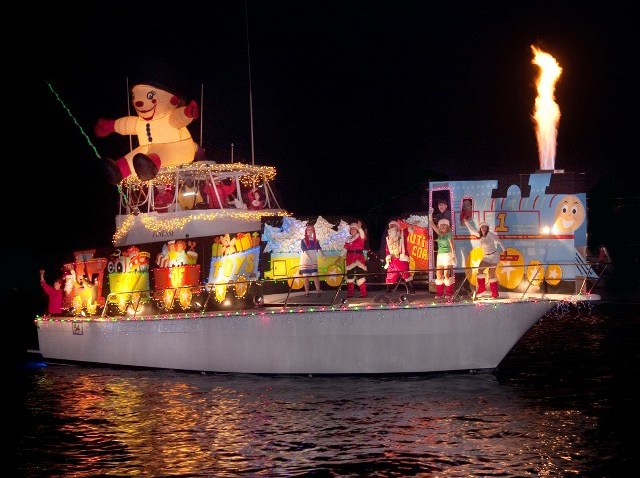 NEWPORT BEACH CHRISTMAS BOAT PARADE: It's the 102-year-old, five-nighter, on-the-water lights-and-yachts extravaganza. There are other types of vessels, too, but bet they all have their dressy-dressy-ness in common. Lights all over. And are a couple of those elves pictured above in shorts? Yep, golden times in the Golden State. Through Sunday, Dec. 19
STEVIE WONDER'S 15TH ANNUAL HOUSE FULL OF TOYS: This brimming-with-cheer -- and tons of toys, too -- concert marks its decade-and-a-half anniversary this year. Reasons? The stars. The one-and-only Mr. Wonder. The really good music, and the fact that a lot of kids get something nice out of the night. It is, indeed, all good. Nokia Theatre, Saturday, Dec. 18
OZOMATLI QUINCEAÑARA BASH: And speaking of a decade-and-a-half anniversaries, one of our town's everyone-loves-'em bands celebrates15 years at Club Nokia on Saturday, Dec. 18. Lots of headlines with this show, but here's one we're enjoying: "(e)very member of Ozomatli" over the group's time as a group will be on stage. Major!
SANTA MONICA PUB CRAWL: The emphasis is on "Santa" here. You'll be dressing like the man in the cozy red suit and hitting some of the town's raise-a-toast-iest places. You will also help out the Westside Food Bank with foodly donations. Everything starts at 5 p.m. on Saturday, Dec. 18, Santas of Santa Monica.
NUTCRACKERS APLENTY: The Moscow Ballet will be in La Mirada on Sunday, Dec. 19; the Los Angeles Ballet is at Royce Hall on Dec. 18 and 19; and the Pasadena Dance Theatre is at the San Gabriel Mission Playhouse.
Copyright FREEL - NBC Local Media