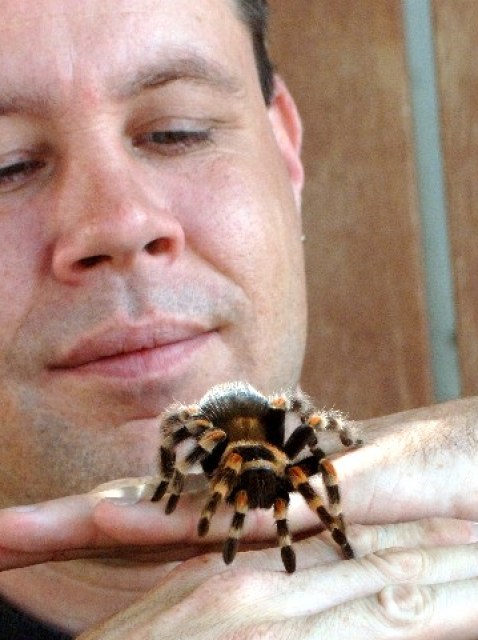 TARANTULA TENDERNESS: Being sweet on spiders doesn't mean you yourself are given to being creepy. It means you appreciate all that spiders do, and their elegance, and their beauty. If you've got amour d'arachnid, take it straight to the Natural History Museum, where the annual Spider Pavilion opens on Sunday, Sept. 26. Say hi to the Nephila Maculata for us. Haven't seen that guy forever.
PIERCE COLLEGE HARVEST FESTIVAL: A true Valley classic and a orange-hued jewel of the season. Corn-mazery, pumpkin-shoppery, and the occasional shiver. It's agra meets eerie, with a dollop of downhomeness thrown in. Opens Sept. 24 in Woodland Hills. Also opening on Sept. 24: Halloween Horror Nights at Universal, and Knott's Scary Farm in Buena Park. Eek and eek.
SEPTEMBERFEST: It's like Oktoberfest, but in September. Wait. Oktoberfest is often in September. So. It's like Oktoberfest, and there's beer, lots of it, from an array of top brewhouses. Plus, you'll be sipping at Sony Studios. Will you do some stein lifting and get discovered? Saturday, Sept. 25
MARINELAND OF THE PACIFIC: The Palos Verdes landmark reigned as a top ocean-y attraction for decades; now the swanky Terrenea calls that view-blessed bluff home. Fans are gathering at Terrenea on Saturday, Sept. 25 to lunch and talk about the gone-but-still-adored attraction's history. Were you a fin fan? Go.
A FEW OF OUR FAVORITE THINGS: Scratch that. Possibly our most favorite thing: a "Sound of Music" sing-a-long at the Hollywood Bowl. We've been. We dressed. We sang. But we never, ever boo the Baroness, nor should you. But you should show in costume. Saturday, Sept. 25
Copyright FREEL - NBC Local Media