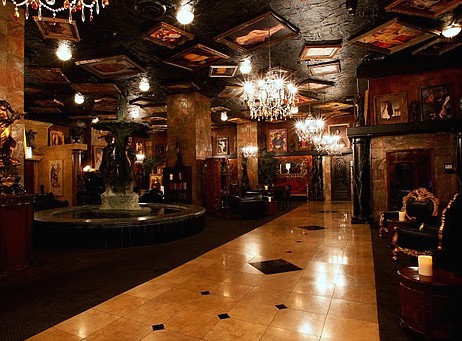 Your job: Decide to get out of town and fast. Our job: Help you find where you're headed. This week, NBCLA's Worth the Drive takes us to...
The Artisan: The built-in-2004 hotel near the corner of Sahara and the Las Vegas Strip just got a refreshening courtesy of its owner, the Siegel Group. It re-debuted in May 2010.
The oh-la-la look: "1914 Montmartre" is mentioned in the release. We're fond of paintings on ceilings. Not murals or fully painted ceilings, but rather framed works of art. A bit upside-world-y, which is a bit Vegas, isn't it?
We also like: The cozy-dark-candle-flickering vibe of the lobby and Mood, the Artisan's restaurant. That's the thing with Vegas, and we can't be alone in this. We either like it very bright, sun-throbbingly so, out by some pool, or we want to hide in a cave for awhile. The Artisan has a cabana'd-out pool, so you can do both.
62 Rooms: It's wee by outsized Sin City proportions, which makes gives it a sense of stand-out-it-ness. There are also two suites.
Price: $99 weeknights (for starters)
Gaming on site? Main non.
Wedding chapel? Mais oui. We would Moulin-Rouge the bejimony out of our bridal gown if we were you. Velvet garters. Red veil. A husband-to-be who smoulders like Ewan McGregor, if possible.
Copyright FREEL - NBC Local Media