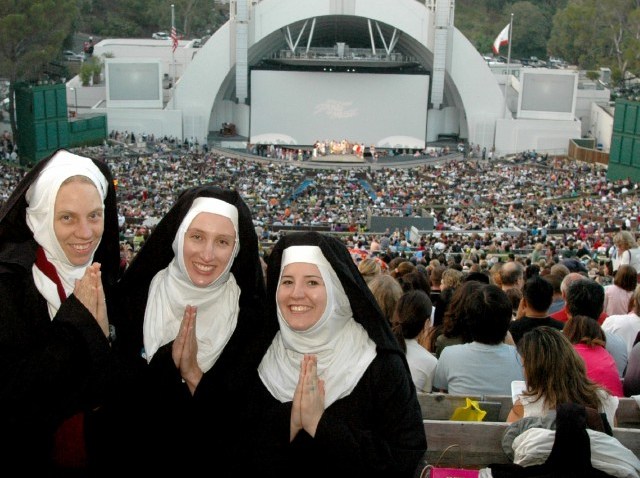 It's back, it's singy, it's costumed, it's wildly popular. It's the Sing-A-Long "Sound of Music" at the Hollywood Bowl, and it's happening on Saturday, September 26th.
We're telling you the details up front so you can get your outfit together NOW. This instant. What are you doing still reading?
All we'll say is this. You've dressed up for a special event before, yes? In costume? You know the excitement while you're getting ready. You preen, and you think *everyone* will want my picture. Everyone!
We had the excitement a few years back. Our get-up: A flowery Tyrolian shirt -- think Von Trapp Casual -- with a spring of faux edelweiss behind an ear. We were practically steeping in our own awesomeness.
Well.
Bring it, we did not. Because there was a whole contingent of gentlemen in full gold lamé nun habits. People dressed up as "boxes tied up with strings" and actual hills ("the hills are alive"). And a whole other mess of gussied-up "Music" lovers eager to strut in the pre-movie parade.
Our sweet fragrance of awesomeness slowly faded into Eau de Try-Harder-Next-Year.
But. What a spectacular night. Singing "So Long, Farewell" with thousands of Angelenos. The on-stage parade. The little surprises the planners always seem to have in store (actors who played the Von Trapp children have been known to show).
And the brave souls dressed as the Baroness. She's our idol. Every morning we try to Baroness Up. Be a bit frostier, a bit tougher. Bat those steely eyelashes. Wear more evening-length gloves. In short: Ball(gown)s to the wall.
Sing-A-Long "Sound of Music" is at the Hollywood Bowl on Saturday, September 26th at 6PM.
Copyright FREEL - NBC Local Media