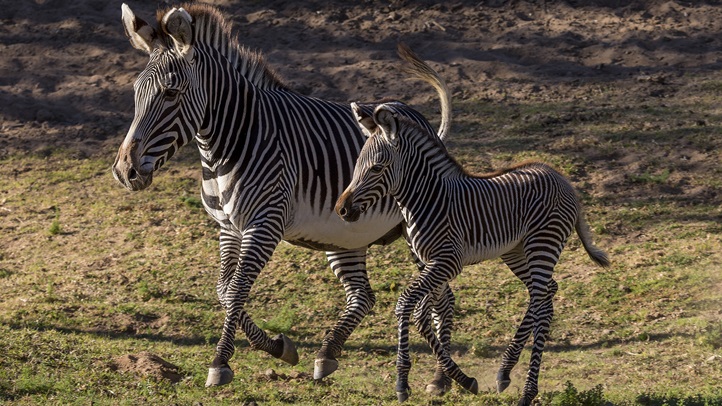 SWEET STRIPES: A baby zoo animal is always coo-worthy, but how they're introduced to their herd or flock or group makes for some interesting educational fact learning, yes indeedy. Take Tanu, the new Grevy's zebra born at the San Diego Zoo Safari Park on Friday, Jan. 3. Yep, he's up and walking, prancing even, baby zebra-style, but mom Bakavu "always keeps a barrier between her baby and the other zebras." She's had some practice at that, given that Tanu is her fifth baby.
THE GREVY'S ZEBRA... is endangered due to anthrax outbreaks, meaning there are about 2,250 in the wild. But at Safari Park? Some 140 Grevy's zebras have been born at the park, with Tanu being the 140th. That sounds like a whole bunch of zebra action going down, and for sure it is, so it is a good thing that the foal "can tell his mother apart from other zebras in the herd" by "memorizing her unique stripe pattern." We humans kind of did this with our own parents, right? At least go their hair color down and height from early on. And if you don't believe us, ask any tot looking for their mom in a grocery store, aisle by aisle. Remember seeing your mom by her big bouffant or curly 'do? Relief. We imagine that can't be far from what Tanu feels upon sighting Bakavu.
TO ADMIRE... all of the Grevy's zebras, jump on the Africa Tramride at the Safari Park. The beautiful equids are known for their skinny stripes -- neat -- so a camera is in order (as well as straight-up camera-down admiring). Want to see something else nifty at the park? Catch the 3:30 p.m. cheetah run. That is, if you want to see "the fastest land mammal" on earth in action. You do, right?
Copyright FREEL - NBC Local Media