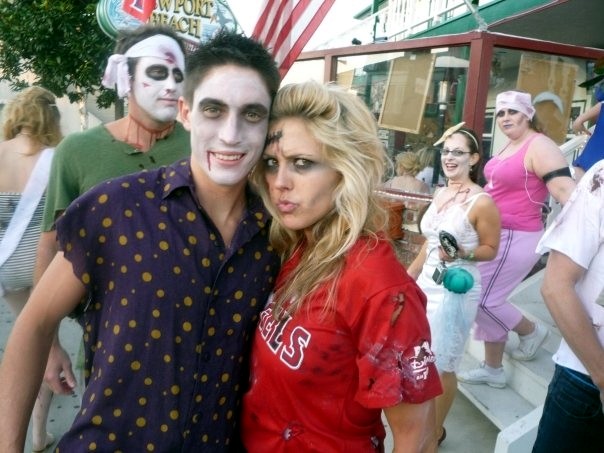 Fact: Most zombie dress-ups tend to happen when the sun has gone away for another day and shadows are rampant.
We're not saying that ghoulish gatherings only go down at midnight, when it is foggy, and a weird wind is whipping up the evening air. But the sun? Tends to be scarce.
Which is one reason we're charmed by the Zombie Pub Crawl that's happening at Malarkey's in Newport Beach on Saturday, Oct. 30. Growling people dressed in graveyard gear will start pub-crawling, at, wait for it: 2 p.m. In the afternoon. In the daytime. In beautiful, salt-breezy Newport Beach.
That's right, world. We're so comfortable with our fantastic sides here in SoCal we don't even need to wait for dark, or look for some foggy forest, to unleash our ghoulish revelers. They can make the moans happen 24/7, even in direct sunlight, even near the sandy-fun-fun-fun beach.
Knows: Localhipster.com is presenting the event. All ages are welcome to come and drag-walk along, but you'll need a wristband if you want beverages of an adult nature. And dressing up in your tombstone-adjacent best is a must. Marinello Beauty School will be on-hand to muss that hair in just the appropriate manner, note.
Malarkey's is just the start of the day; several other spots will be dragged-moaned to during the afternoon.
Copyright FREEL - NBC Local Media